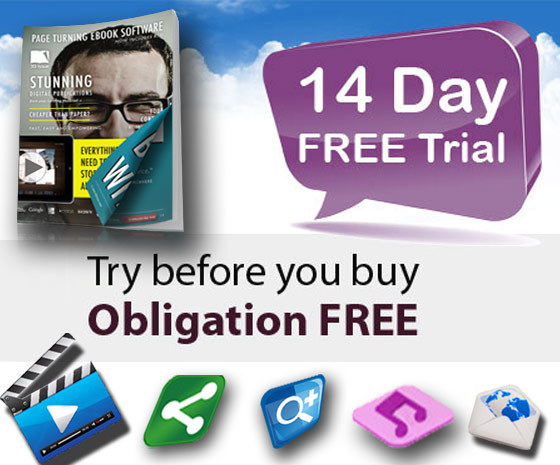 The practice of downloading and installing the trial will allow you to evaluate for yourself the advantages of being able to create and host your own digital publications. You can experience every aspect of the software and you also have the option of hosting with our 3D Issue cloud if you desire.
Be free of second-guessing and regret. In this blog, I will show you how to publish your content digitally and to try something new; all at no cost to you.
The goal of 3D Issue has always been to provide a comprehensive solution that enables every interactive experience within your digital publications, right up until the delivery stage on all devices. This trial can only be beneficial to you and your business, you can be assured that every single one of your online publishing needs have been given due consideration in this software. You can try for yourself first hand using your own PDF content, web links, videos, audio, animation etc, this will enable you to give your audience a real sense of the possible future direction your magazine publications could take.
Give your PDF a digital functionally across all devices. When making a page flip magazine, an e-Publication or an e-brochure etc, you can rest assured that the regular updates encompassed within the software will ensure that 3D Issue will never date and that next generation software is here for you today to suit all devices- no matter if your reader is on a Mac, tablet, PC or smartphone.
Gain information: Throughout your trial period, the sales and support team are here to assist you. You can email sales@3dissue.com or support@3dissue.com. We also have user guides and a knowledge base for extra information on the software. Or if you prefer video tutorials we have a full set guiding you through all the features.
Branding: roll your corporate identity out across your magazine, you can create banner adverts, add your logo and bespoke background plus many more branding features that will extend your brand ethos online.
Address your questions: Want to try before you buy? Try out the software using your own content and address any concerns you may have about using digital media with your publications. As the trial is fully functional, the finished article can be achieved. It is an exact replica of the full software, (with the exception of a watermark – which you can request to be removed) so, within the time frame allocated, you can have the full use of every function and feature.
Gain opinions: The best panel of adjudicators is always your audience: Who better to help you decide than your own clients? They know your business and you will garner valuable feedback from your own industry players. You can host your trial publication from your own domain or from our cloud and share the link from there, either by adding to your website, via email, social media or other means. By using the trial to enhance your content, distribute and track the results, you can then decide if the software works for your publication.
Online demonstration: While you experiment with the trial you can attend our digital publishing webinars. Register to join the webinar and see the software in use.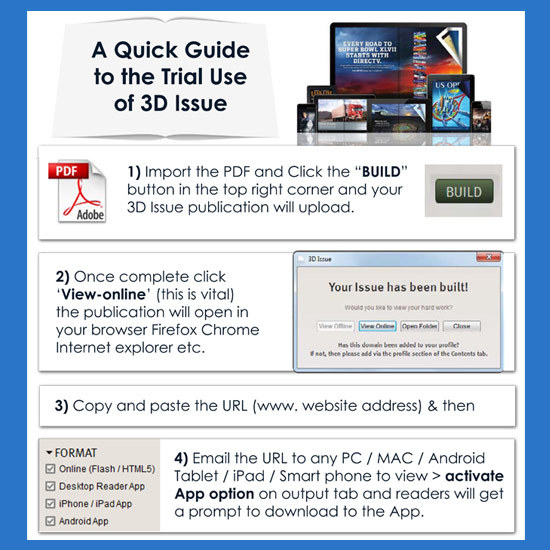 Trial Guide Infographic: Please see the visual above. It outlines the simple key stages you need to do when setting up your 14 Day FREE Trial.
I hope you found today's blog informative and if you would like any more details on trying out the software please contact info@3dissue.com and one of our online publishing experts team will get back to you.
By Audrey Henry