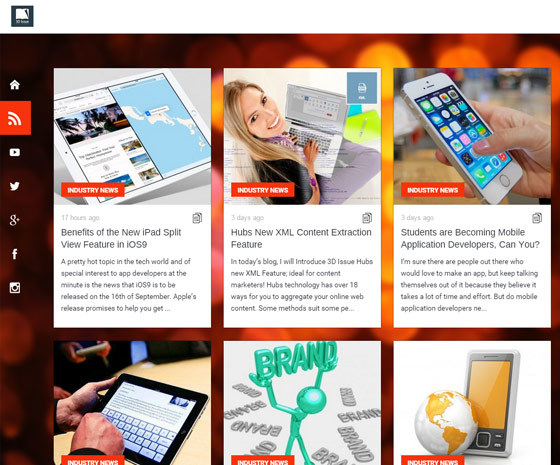 The "create feed" feature in the Hubs platform allows users to create their own feeds using a website link. This is a frequently used feature, loved by publishers and content marketers who want to share content in the form of newsletters/newswalls as Hubs or as content that flows into mobile apps.
Usually, the web page source can be added if it is an RSS feed but in some cases they may not be an RSS feed and the user will still like to use this online content.
There is no need to worry if you don't have an RSS feed link – Hubs provides many options for adding content.
The create feed option is a fantastic way to pull content from URLs or websites that don't actually have RSS feeds publicly available. So lets say you wanted to pull content from a product catalog, list results, property search engines, or even home pages that have very complex layouts; it can be very simply done with the create feed option.
For example: We will use a link that has the RSS feed hidden or isn't publicly available.
Click on the create feeds section, copy the URL that you wish to add, Insert it into the create feed section.
It loads an instance of that page for you to view in preview mode.
Then it prompts you to identify the link that brings you to the content that you are looking to extract.
In this example, we are looking to extract the article so the link would be the title.
The title automatically highlights inside a red box and I click that, it adds all similar titles from that page.
Click preview, and Hubs builds a beautiful news wall showcasing the 50 articles that it found on that page. It's that easy! Now you have aggregated the content you wanted and you can share it with your online audience via the Hub link or the mobile apps the Hub feeds into. As new content is added to the original source/webpage you Hub will auto update meaning your readers can rely on the content you have generated to stay informed of the newest news. Try it today via the free trial here.
By Audrey Henry