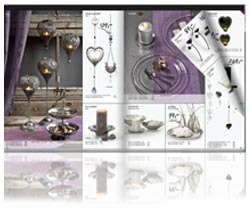 Today's blog will discuss how to create catalog for online viewing  and what can be achieved by using 3D Issue software. If you want to take a step forward like "Black Design," a Norwegian based design shop, and create catalog, brochure, magazine, publication or book digitally it is simple. All you need is: 3D Issue software, PDFs, FTP access and a website to host your magazine. Have a look at what you can achieve: http://katalog.blackdesign.no/BD_katalog_DM/2013-hoved-host-jul/index.html
1.  Set up the software: Download the software; add your logo, domains, FTP and SEO information. SEO stands for Search Engine Optimisation and it is used to optimise search on the web, you can also add Google Anaytics ID to tracks stats on your publications. Read more about tracking in this blog:  "The Benefits of Converting PDF to Online Magazine."
2.  Import: Your PDFs into the software to create catalog
3.  Design and create catalog: Add rich media, colours and effects. There are lots of resources on their website to help with this process including videos and live interactive webinars. Helpful resources.

4.  Select formats: On the output tab you can select where you want your catalog to output to e.g. iPad, desktop reader, standalones etc.
5.  Preview and Build: Take a few moments to preview your work, make a few amendments if you wish. Then all you have to do is click "build" wait a few moments and your catalog is created.
6.  View your work: You can view your work in so many ways. You can copy your URL and email to friends, family, colleagues and potential customers.  You can copy it to CDs/ DVDs/ USBs and distribute at your next conference.  You can download the 3D Issue FlipBook Viewer App and view it on your devices or simply log on to your website and view it through the browser.
For more information go to www.3dissue.com