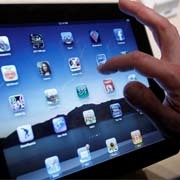 In recent blogs, we have discussed some relevant points to consider when creating digital editions for iPad users. In this blog, we will focus creating an iPad web app for your digital publication.
What can an iPad app do for your digital publication?
An iPad app icon can allow your readers to avail of quick access via a full screen mode from their home screen and in this way provide them with the best digital experience in the quickest way.
How can you create an iPad web app?
Creating an iPad web app is easy; just follow all the steps below
Create your iPad web app: You can create your own iPad web app to fit with your company's image. You can choose any application to create the icon that needs to be 72 x72 pixels. The round corners or shine shade effects are auto applied. All you need to do at this stage is save the image as a .png file.

The key point to keep in mind at this stage is creating an iPad web that associates with your publication; so make it an integral part of your publication.
Follow the procedures: Once in the 3D Issue software; make sure you perform these tasks:
-Click on 'Options' from the top toolbar
-Select ' iPad / iPhone App': You will be presented with a pop up window showing the default 3D Issue App style icons
-Select 'Change iPad icon'
-Browse for the icon you created and save
-Upload the publication: complete the publication by hitting 'build' to upload the files to your website including the icons.
 -How will this work in the reader's screen?
When the readers select the icon, and to add their home screen and they can view your publication as shown in the image below: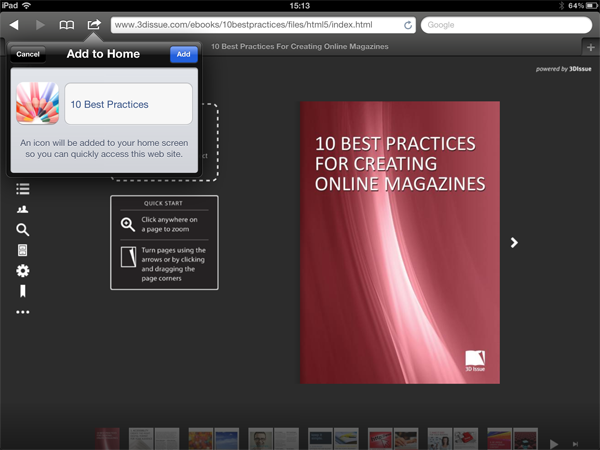 Creating an iPad web app can be make a big difference can be an effective tool not only to enhance your publication but especially to satisfy the needs of your end readers.
By 3D Issue