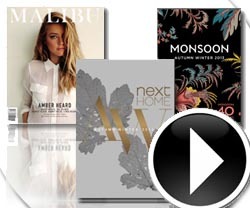 E-Catalogs have gained popularity in tandem with the far reaching influence of the internet and the soaring popularity of smartphones, tablets other connected devices. A well designed, easily navigated e-catalog can be a fantastic asset for your company. We have seen many platforms adopt this approach, Pinterest, Wanelo, and Flipboad to name but a few. This approach has been hugely popular as we have covered in previous blogs, but what about if video as added to an already potent mix?
An e-catalog can increase sales, reduce costs, and deliver the right products and services to the right users and clients. As consumers increasingly gravitate towards the online environment it is important to provide the consumer with a shopping experience that caters for their needs. An e-catalog can enhance your brand and offer shoppers an experience to match their online browsing habits. For those that may have missed our previous blog on how to set up an e-catlog using 3D Issue you can find it here.
The benefits of E-catalogs
E-catalogs are the latest in a long line of examples of how the internet and the experiences it can help provide have enhanced our lives. E-catalogs created using 3D Issue offers many benefits, they include;
Flexible – you can make changes whenever necessary to your e-catalog, you are endowed with the ability to add or remove products as they become available or go out of stock, the same methods can be applied to pricing and product information.
Quick jump links – Allow catalog readers to jump to 'related' products elsewhere in the catalog by creating hotspots.
Catalog Linking – The digital edition archive feature allows you to give your readers access to a graphical library of the other catalogs or publications, so you can promote your other products too!
Social buzz – If your product online catalog is a digital edition your readers can promote the publication and content by using the built in sharing features for Google+, Facebook, Twitter etc..
Cost effective – in comparison to print catalogs E-catalogs can be produced and delivered at a fraction of the cost of their printed counterparts. If you already have a printed version of your catalog in circulation then it can easily be reproduced using the 3D Issue software using the existing PDF's you would have utilized to create your printed catalog.
Searchable – Catalogs can be fairly lengthy, printed copies can therefore be difficult to search and find a particular product or search term. With an online catalog comes the ability for the reader to type in a word or phrase, then have a direct link/click to that page.
Measurable –Through the use of Google analytics linked within your e-catalog, you can track consumer behavior, analyze what items are getting the most clicks, which pages are garnering the most visits and so on. These are invaluable statistics to have at hand as they can influence future marketing decisions and pivots.

Continuously working – The convenience factor for the consumer is a big plus; they can access your e-catalog from any device at any time from a connected device without the need for the printed version to be at hand.
Embed photo galleries – Showcase photos of your products easily by embedding photo galleries or slideshows with the click of a button – no coding skills required!
Product demos – By adding videos of product demonstrations, your audience can 'see' features in action rather than simply reading about them.
Shopping Cart – Give your catalog readers the ability to click to the shopping cart on your website for a particular product.
The dawn of video
Video enriches any publication within which it resides; in terms of content sharing, video is truly one of the internet's strengths. In an earlier blog I covered the many advantages that video offers backed up with statistics and figures, but for the purpose of today's blog we are going to concentrate on how to create an e-catalog enhanced by video and the capabilities and qualities it undoubtedly brings to the table.
Have you got a catalog that you would like to transform with the fantastic features that 3D Issue can supply?
Would you like to add video and audio to your publications?
Try 3D Issues fully functional trial today and transform your catalog beyond recognition.