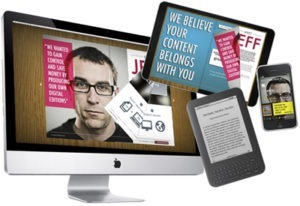 Nowadays, it is relevant to create multi-platforms publications in order to reach your target audience effectively. One of the key points when creating multi-platform publications is that your content can be converted in order to be accessible in multi-platforms.
What is content conversion?
According to an article in Econtent.com, 'Content conversion is abstracting the materials that have typically been used to produce a specific publication and establishing a reusable store of content assets from which many publications can be optimally produced'
In the word of Joe Gollner, director of Gnostyx Research in Canada' Content conversion means converting single-channel publications into multi-channel content resources."
According to experts, content conversion is particularly relevant at the present time. Scott Abel, chief content strategist for The Content Wrangler in San Francisco pointed out that 'Today, you have to deliver the right information to the right people at the right time, using the right format and language on a device of their choosing'

Econtent.com also provides some interesting facts on the implementation of content conversion based on a survey by DCL where more than 266 professional from a variety of industries participated. The findings were the following:
-44% of respondents said their content comprises more than 50% of their company's value
-88% have converted at least some content in the past
-43% are planning a content conversion in 2012
-30% are planning for it within the next two years
These figures show that content conversion is gaining more relevance in a wide range of industries. As a result, it is necessary to take it into account when creating your publication. 3D Issue allows you to create multi-platform publications; so you do not need to worry about creating an HTML5 version for mobile devices and tablets and also a Flash version for laptops and PC; 3D Issue will do this for you and will route your readers to the appropriate version depending on their devices.
For more information on multi-platform publications, please e-mail us at sales@3dissue.com

By 3D Issue