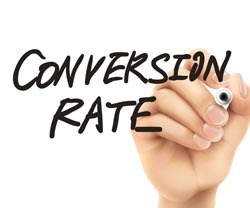 We've talked on numerous occasions about the importance of mobile, about how valuable content is and how to increase the engagement with your audience. Now it's time to talk about the role of personalization in your digital marketing strategy.
What does marketing personalization mean?
We all know what personalization means in general, but what does it mean when we are talking about marketing?
The main goal behind personalization is to connect with the customer. You want them to feel like you care about what they need and want. A small little change that with minimum effort can make your conversion rate soar.
Any brand that reaches certain awareness is expected to provide an extra value but even small businesses find personalization effective when it comes to attract and retain customers.
If you offer a solution that not only solves a common and recurring problem but also makes your customer feel like it has been created with them in mind, you'll have hit the jackpot.
The moment the person you're targeting realizes what you are offering fits their needs better than anyone else's you'll be positioning yourself ahead of your competition.
How are Conversion rate and Personalization Connected?
Happy customers tend to share positive experiences not only with their family and friends, but also with other people on the social networks. Positive opinions and reviews, will encourage people to give your brand a try even when at the beginning they were thinking about buying from a competitor.
With a customized, personalized product you are providing a better customer experience, improving your market position and increasing your brand recognition.
Let's see an example of how personalization works for the publishing industry by answering one simple question:
What would you prefer as a user?
1. A website where you receive a lot of news from different sources without any kind of structure?
or
2. A website where you access all the latest news and where you can filter the information you are looking for by date, country, topic, location, format, language etc.?
When it comes to content, personalization is extremely important. Especially now that the amount of information available on the internet is overwhelming. People don't have the time or the willingness to spend minutes looking for the news and information they need. If they can't find what they are looking for with a quick scan, they will leave.
That's the reason why content hubs are becoming so popular. These platforms offer the user the option to navigate through all the published content and access the information they are looking for in just a few seconds.
As a content publisher you may offer information on different topics related to different locations, to different audiences and in many formats. Hubs organize all that information automatically and as soon as it's published so your audience doesn't have to do more than visit it to find what they need.
There are many forms and levels of personalization. Every business and every industry is different, but one thing is always true, a higher level of personalization usually leads to a higher conversion rate.
If you usually publish content online and want to optimize your conversion rate, take a look at out our Hubs platform and explore the different options you have to create a perfectly customized environment for your users.