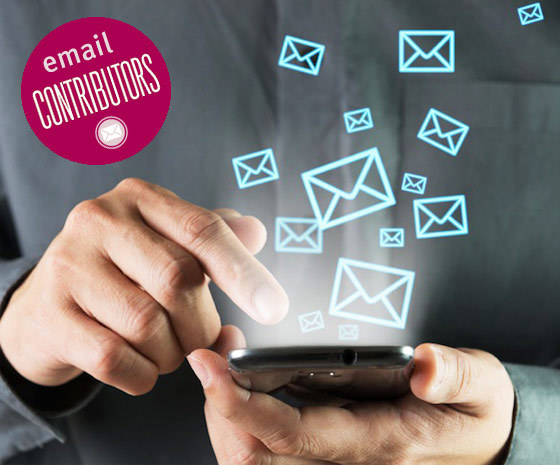 A popular and functional feature of the 3D Issue content marketing software is the email feature; this is a particularly handy tool for the content writer and publication editor.
With this feature, articles; consisting of title, body text and images can be submitted via email by multiple pre-approved authors, blogger and writers. Once their email addresses have been added by you to the software their content will automatically feed into the content hub or mobile app.
This feature has many advantages; since we launched it in July 2014 we have seen it greatly help our customers in automating the editorial process.
An effective tool for large offices and multinational organizations that may have contributors in many different locations. This tool allows multiple channels of content to be brought together easily and laid out automatically in a beautiful digital showcase.
Example of how it can work: This features worked well recently for a school magazine – the teacher simply added each student as an email contributor, then each article as submitted loaded into the hub, and automatically appeared everywhere the link had been shared or added to an app.
Simple submission process
The many writers/contributors will be totally unaware of the technical side of the software. You can make them a verified contributor without them even accessing the dashboard of the software.
I would like to encourage you to use the email feature: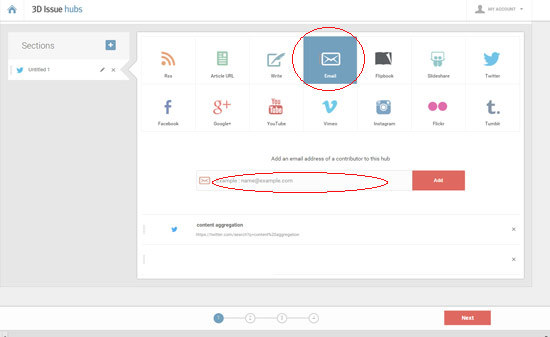 How it works:
Once you have been added as a contributor to a 3D Issue Hub.
You will be able to add articles to the allocated publication using your email.
It is pretty simple. When you are ready to submit an article just follow these steps:
1. Add the title of your article as the subject of the email.
2. Add the main text of the article to the email body. Ensure that all signatures etc.. are removed from the email before adding your article text.
3. Copy and paste images directly in from any webpage attached desired images.
4. Send the emails to the email address hubs created for you.
This email address is unique to this publication.
And that's it. Each article that you submit using the above format will be added to the publication automatically.
See a the video below showing you this tutorial in the hubs dashboard.

Finally to summarize:
1. Add as many contributors as you like so your content flows in from many contributed sources as you like easily.
2. Create publishing deadlines for your authors, bloggers and publishers to submit by.
3. Have them add articles/news features on the dates you want.
4. Automate the editorial process for ease of management.
5. Suppliers of information can be curated easily to produce a rich content-filled hub.
6. Contribution via email is easy for anyone to access.
7. Add your approved contributors mailing list.
8. All participants in your lists can be advised by you and can then be expected to abide by your publishing policy of code of conduct.
9. Add content to an app or content hub via email.
10. Manage content the easy way with email.
If you would like to utilize this feature for your content writers or if you have any questions info@3dissue.com today for more information.
By Audrey Henry