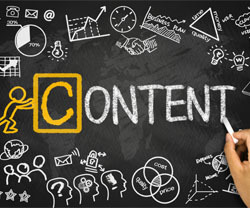 Over the past decade the evolution of the digital world has drastically reshaped the way your audience consumes information. Due to the dynamic nature of the new market businesses need to continuously adjust their marketing.
Everyday there are 3 content related activities that you will experience and that are closely related to the best digital content practices we are going to talk about today.
• Publishing – From posts in your blog to videos on your YouTube channel, everything you publish, curate or aggregate falls into this section.
• Engaging – Good content will engage your audience and start the conversation. Don't miss the opportunity to reply to messages or comments as soon as they are posted.
• Socializing – Different from engaging, socializing involves your social platforms. These could serve as content distribution, content discovery or communication channels.
Digital Content Best Practices
1. Do Your Research
Before you even start thinking about writing an article or creating a promotional video do your homework to get better results, the more information you have the better. However there are at least 3 key things you need to know:
• Your audience – Gather as much info as you need to identify your perfect buyer's persona and create content to suit their needs.
• Competition – Learn from your competitors. See what they're doing right (and wrong) and improve their strategies adding your own ideas. Who says you can't learn from others' mistakes and successes?
• Market – Knowing your target group and implementing a strategy that you know works will bring you results, but if you want to be better than your competition you need to explore the market and its possibilities and come up with your own content marketing strategies.
2. Shape Your Content
Once you know who you are writing and creating content for, find the best way to engage with them.
• Content form – The design and organization of your content strategy will mostly depend on the format your audience prefers to consume content. For example, if your audience is most active on YouTube create videos that showcase your core values. Don't forget to connect all your communication channels (website, social media profiles, blog, YouTube channel, etc.)
• Copywriting – Your audience has a short attention span. If they don't recognize the idea behind the content you're trying to promote in the first few seconds, they will just glance over it and leave it. Write catchy (but accurate) titles and include a call-to-action.
• Psychology – Besides the catchy title you also need to take into consideration what makes your audience take action. This is where emotions come into play, if you're successful in triggering an emotional response from your followers you will increase your conversion rates.
A big part of content promotion is distribution. If you're having problems finding your perfect content distribution channel send us an email to info@3dissue.com so we can help you or check out our complete Publishing Suite.