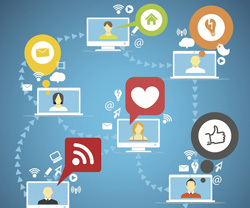 In recent years, most companies have realised the need for an effective content marketing strategy and the impact it has on their brand's image. This has resulted in a larger number of companies investing more to achieve their marketing objectives.
Despite the growing awareness, most content marketing campaigns still fail to achieve their goals.
Why?
Find out the 5 essential keys to an effective content marketing strategy for any business organization below:
1.Identify your target audience
Typically, the goal is to reach more customers while retaining your core customer base. Try to understand who they are, their interests and how to get them to take action and engage with your brand.
Don't adopt the internal-focused perspective in content marketing. Instead, put yourself in the shoes of your prospective customers. Think about their questions, "information gaps "and concerns that you can address with the content on your website or on your blog.
2. Have a clear set of objectives
What do you want to achieve with your content marketing? Your content is a tool and you need to ensure it achieves a specific purpose.
To set the objectives, ask yourself:
• Why should I invest in content marketing?
• How will it benefit my organization?
• Can the benefits be measured?
• Are the benefits relevant to my business?
3. Optimize your content for maximum conversion
You need to create a platform where you can address the problems your customers have and convert them into loyal customers. Some of those platforms are blogs, websites or a landing Page. Whatever option you choose, it should be designed in a way that will give you tangible results.
Here is what you should consider to optimize these platforms:
Page design
This is an important conversion driver. Choose great font styles and colours. Also, position your e-mail opt-in box and logo strategically.
E-mail list
Allow e-mail subscriptions on your website and ensure your online visitors have an easy access to your opt-in box. This is a great way to measure your content marketing results. It will give you an idea of how many people find interesting what you have to say.
Appearance
Optimize all the content you create to attract more customers. It doesn't matter if it is the copy of a landing page, e-books or e-mail courses, you should always try to offer your content in an appealing format.
Flipbooks and digital publications have become really popular among brands during the past few years thanks to their versatility and responsiveness to different screen sizes. Check out these examples.
Story telling
A great marketer should also be a good story teller. Let your customers relate to your brand and its unique story. The storytelling will help you separate your content from that of other companies and successfully make it stick in your customers minds.
Promote constantly
Go beyond posting your content links on social platforms like Google+, Facebook, Twitter, etc.
Create a Hub to reunite all your social posts, your blogs, your videos and in a nutshell, all your digital content in one place. Share your hub in an email or upload it to your site and keep your audience always updated with your latest news.
Get more serious with your content marketing and consider guest-blogging, forums and groups.
Final word
An effective content marketing strategy is of great significance to the success of your business. The above points will get you on track to building high-conversion channels for lead generation.
If you are looking to improve your content marketing strategy and want to know how publishing an app, a flipbook or a hub will help your business email us at info@3dissue.com.