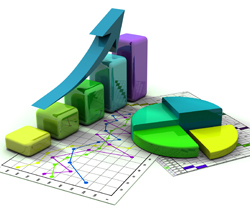 Content marketing has been gaining popularity over the past few years and for good reason.
The rise of content marketing is caused by the effectiveness of content to communicate your message to your audience while providing them with the information they are looking for.
The following statistics show why marketers have found in content marketing the best ally to meet their targets.
Content Marketing Statistics That Matter
• 61% of consumers feel better about companies that have custom content and are more likely to buy from them.
• 70% of consumers read blog articles to get familiar with a brand.
• 41% of marketers confirm the positive ROI they receive when successfully implementing a content marketing strategy.
More than half of the businesses are struggling to create engaging content.
A great number of businesses in this category can't create an efficient content marketing strategy because of a deficiency on data usage.
The key to a successful content-driven strategy is finding out who your audience is, what they want and how to deliver the appropriate message to them.
Ready or not, for your company to be successful you have to be in the content business. Every organization needs to offer information relevant to their customers in order to establish a long term relationship.
• 91% of B2B marketers use content marketing.
• The most used promotional channels include social media (93%), blog posts (84%) and newsletters (78%).
• Studies show that medium-size companies spent 31% less on content marketing than they do in paid search advertising. This percentage rises to 41% in the case of large companies.
• 41% of marketers claim that content marketing delivers a higher ROI than paid search.
• 47% of marketers strongly agree that content marketing should be the core of every marketing mix no matter the type of business.
• 35% of marketers consider that custom content will be the future of marketing.
• When it comes to educating the audience, the efficiency of interactive content compared to passive content is 93% vs 70%. What's more, interactive content is being shared by 38% of the people, whereas passive content has a 17% shareability.
• $5.2 billion a year is the amount spent on content creation by 3,408 B2B companies.
• B2B marketers that used a content management platform noticed a 200% increase in content volume.
• B2B marketers cite web traffic and sales as their top marketing metric.
• 74% of B2B marketers use automated targeting tools to deliver targeted content during specific stages of the buyer's lifecycle.
• B2B buyers conduct approximately 12 searches before they start following a specific brand.
With the increased adoption of more versatile content platforms, the creation and use of customizable content hubs is slowly becoming a staple as part of any online content marketing strategy.
If you want to create your own hub and start your journey in the digital content publishing business, check out some of our products or contact us directly at info@3dissue.com.