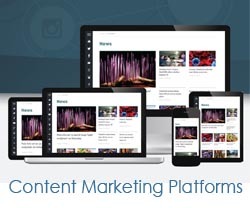 Digital marketing requires a platform to ensure quality, consistency and the ability to scale your content creation and distribution. Content marketing is no different. Tools and platforms that help digital marketers make an impact with their content marketing strategies become more important by the day. The world is online, the online arena is as vast as it is resourceful, in an arena so immense today's marketers need all the help they can get to promote and increase brand awareness.
In today's blog we will look at 5 content marketing platforms that can play a vital role in the marketer's efforts to increase awareness around their brand.

Curata – Easily find, organize & share relevant content for your business to position your brand as an industry thought leader, increase brand visibility and generate leads.

Scribit – Search and browse for articles and videos, share content, and track conversions using this content curation platform.


Magnify – This fully customizable platform allows publishers and brands curate and share online videos.

Parse.ly – This predictive analytics tool empowers publishers to track the performance of authors or topics, capitalize on web trends, promote in-demand content, and tap into the potential of recommended topics.

3D Issue Hubs – 3D Issue Hubs is a software solution for publishers and marketers which enables them to convert their online marketing collateral into a mobile web format. This single format works across all devices, resolutions and platforms. 3D Issue Hubs aggregates live content from multiple online web pages, feeds, CMS systems and social platforms such as Twitter, Facebook, LinkedIn and SlideShare. This content is then outputted into an auto-updating responsive magazine that instantly adjusts to suit the resolution of any device that a user chooses to consume the content on.


3D Issue Hubs collects and centralizes online content and converts it into mobile web applications that can be viewed on any tablet, eReader or Smartphone. Scrapes content from social platforms such as Twitter, Facebook, LinkedIn, Google+, Instagram and LinkedIn.