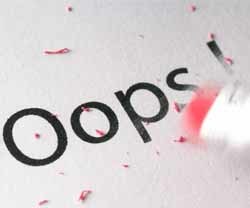 Since the aim of content marketing is to reach the audience, the chances of the public noticing a content marketing mistake are really high.
Besides, in an ever changing environment where you need to adjust and change your strategies to your audience's needs and market trends avoiding those mistakes is anything but easy.
It's not like you can setup your content strategy and forget all about it, your audience and the market are dynamic and what worked yesterday may not work today.
In order to help you minimize the potential of making a content marketing mistake, I've put together a list of the most common ones so you can avoid them all.
1. Not having a defined targeted audience
If you don't have a clear idea of who your audience is, you won't be able to create the content they seek, or you may create the content they like but in the wrong format.
Try to do your research first, learn what your customers like, the platforms they use, what their needs are etc. and then build your strategy according to that criteria.
Many marketers tend to go too broad expecting to get better results. The reality is that usually the opposite happens. The cost increases and the results are not better leading to a lower ROI.
2. Not giving strategies enough time
Most of us are impatient by nature. We make a change or implement a new strategy and want to see results straight away. Well, most of the time that won't happen.
When you test new strategies you need to give them a chance. You may not get the outcome you are expecting from just one blog and 2 infographics, but before you discard your new idea and move on to the next one, wait a little bit and be patient.
On average a new strategy will take between 1 to 6 months (if not more) to start showing results, so if in a week or 2 you haven't noticed any changes don't give up on it yet.
3. Thinking quantity not quality
Another frequent mistake that companies make is thinking about the quantity of content they publish instead of the quality of it.
It's important to update and publish content regularly to keep your audience engaged and to improve your brand's image. But it's better to publish high quality content every 2 to 3 days than to publish content that no one wants to read every single day.
Good content takes time to create but it's that content the one that will strengthen your brand image and your relationship with your customers.
If these aren't strong enough reasons, remember that Google doesn't like thin content and that approach could even end up hurting your rank on Search.
4. Not promoting your Content enough
Although content is meant to be part of an inbound marketing strategy, that doesn't mean it can't be promoted.
Sharing your content on Facebook, Twitter or through your Hub, will help you spread your word and your reach.
You are dedicating resources to each and every piece of content you produce, so make it worth your while by supporting your content marketing efforts in every way you can.
Now that you know which the 4 most common content marketing mistakes among marketers are, I hope you avoid them all.
If you want to take your content publishing strategy to the next level try now our digital publishing products and if you have any questions contact us at info@3dissue.com