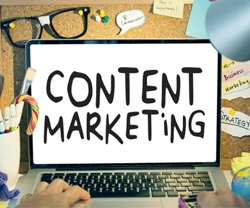 Knowing how to tailor your content so your audience can't wait to read your next blog post, buy your new magazine or open your weekly newsletter is one thing, creating a content marketing strategy that will maximize your email click through rate is a different one.
However, neither of them is more important than the other, in fact both of them need to go hand in hand to maximize the reach of your content.
These 2 content marketing hacks will help you do exactly that.
Create Personal Yet Simple Opt-In Forms
Opt-in forms are boring. Nobody wants to fill in fields and fields of information about themselves.
Create a simple opt-in form that will require as little info as possible from your audience, and make sure that you use a clean and engaging design.
Forgetting about user experience in favor of conversion optimization is not an option. These two can't survive separately.
When people have finally given you their contact info, use it wisely. The first few times you get in contact with them will be crucial. Send them a limited offer as a way of showing your appreciation and always include information that will be of their interest.
A good way to determine what kind of information your audience is interested in, is through the use of content aggregation platforms.
After you get their attention make sure to continue the conversation on other communication channels like social media, forums or whatever your brand is using the most.
Retarget the Non-Openers
If you're investing a lot of time and effort in creating content for your subscribers, you already know how hard it is to increase the initial click through rate of your emails.
The probability of your newsletters being left unopened by a majority of your subscribers is pretty high. A 20% open rate is considered a good percentage for most industries, unfortunately that means that usually more than 80% of your audience will just ignore your email. Even when people are aware of the added value you offer and have built a trustworthy relationship with your brand, they won't always open your emails.
People are busy and get many emails every day, getting them to open yours it's definitely not easy, but it's not impossible either.
First you need an automated emailing system that will gather all the data regarding open rates, click through rates etc. so you can dig deeper into the matter.
Once you have that in place, pay attention to the statistics. How many people opened your newsletters? Who were those people? Who haven't opened your emails in a long time? Can you determine why?
Try creating a new target group consisting of just the people who haven't opened your newsletter, and exclude those who have. Send the same newsletter with a different title to this target group and look at the figures.
Did your open rate change? Did anyone open it? If so, take a note of what you have changed and take it into consideration the next time. If it didn't work, try again. Something as simple as the change of the title could mean an increase on an email open rate of anywhere between 5% and 15%.
Although there are more strategies that you could follow to create engaging newsletters, this simple trick is so simple that is well worth giving it a try.
What's the biggest obstacle you've faced when creating a newsletter and a funnel for it? Was it your landing page? The subscription box? The newsletter content?
If you would like to know how to further improve your content marketing strategy, email us at info@3dissue.com or sign up for one of our free trials.