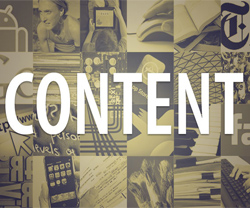 Picking the right content management platform for your business depends on your strategy and the marketing channels you're planning to use.
A great deal of digital marketers make the mistake of picking a content management platform that isn't right for their clients or even worst their own company.
That's why you first need to decide what you actually need. For someone that runs an opinion blog and has an active community, a good content management platform would be WordPress, for which you don't need any special programming knowledge and where you can easily edit you articles.
E-commerce sites would probably go with Magento or something similar, while the tech savvy company that wants to fully customize its online presence will want to look into what Joomla or Drupal have to offer.
The list of platforms can only grow from here, so to make it easier for you to choose, let's see what are some qualities you need to look for in a content management platform:
Functionalities
What you need and what the content management system offers. The first time I used WordPress I wanted to place the post title above the featured image on the homepage. The theme I was using didn't have this feature, so I got stuck with a design I didn't like. Imagine if your whole content management platform doesn't have a feature you want and it can't be implemented.
To avoid that, you need to read carefully the list of features the platform offers and compare it to the ones you need. Even better setup a test site (everything in digital marketing involves testing, you'll get a hold of this idea if you follow this blog) and play and check how your newly chosen CMP feels.
Content management ease of use
If there's one thing a content management platform should offer is access to your content with no hustle. You should be able to access, manage, edit and publish your content in only a few clicks. If this isn't possible, move on, start looking for the next best solution.
Don't forget to make sure that the content management platform of choice includes a good and easy to use text editor. The most basic tasks will prove to be a struggle and consume lot of time and resources if your editor doesn't have an impeccable workflow.
Scalability
If you're running a blog or you don't publish that much content, you can just skip this section. However, if you are one of those people that publish lots of information every day and that looks at CNN or Forbes as their biggest competitors, you should start thinking about scalability right away.
There are content management platforms out there that, should you find out they don't meet your current needs, will make it really hard for you to transfer all your data to a new hosting provider or to a different platform. Make sure you've taken this into consideration before making any decision.
Customization
You've made your first site and pumped it with lots of plugins, but after couple of years of work you want to add a forum and a customer relations section. Some platforms can make this a really bumpy process, some may not even offer this commodity at all, so be careful.
A News Hub
If you don't have a website or want to add extra value to your site, then a news hub is the answer.
Many people out there make their living through social media and other communication channels without the need of a website or maybe they have one but their community is mainly on the social platforms. If you belong to this group, you should seriously start thinking about using a news hub.
In a news hub you can publish content automatically from various sources, without having to move a finger and on top of that you could add new articles directly to the hub using your email address.
News hubs are also an excellent solution for businesses that publish tons of information on their website not only because they offer a unique way of communication, but also because they provide the opportunity to engage with the readers like never before.
When it comes to SEO, social media advertising, and you guessed it, when it comes to choosing the right content management platform, everything is all about research and testing. Make a list of your needs and go through your options. The one that fits your list the best is the one you should choose.