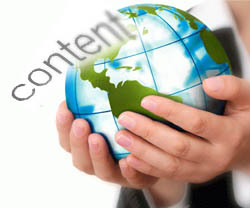 This planet we inhabit pivots, changes and evolves all around us every single day, we have ever changing habits and views due to the accessibility of content at our fingertips that we have never had before. Barely a day passes without some form of content entering our lives and changing our perspective or opinion. How many of us can claim to have never been influenced by something we have watched or read online? I'd wager the number is very low; the internet is the world's biggest library, the biggest content provider that man has ever known. It stands to reason then that the methods brands now have to employ to successfully reach us also have to pivot, also have to change.
We live in a world which is overpopulated by content and advertising messages; information is presented to us and appears on our peripheral vision every minute of every day. Marketers battle it out for our attention in the hope of creating awareness and traction for their brands, no easy task considering the amount of brands vying for the same market space. We have built up a tolerance to such approaches, a tolerance that has reached a point that we now subconsciously ignore all but the very best efforts and the ones that resonate with us the most.
Let me put it another way, how many of you when reading a magazine, flip past the advertising page? How often do you change the radio station when a commercial comes on? Do you fast forward through the commercials on your favourite TV programmes? How many of you have a spam filter on your email inbox? When was the last time you picked up the yellow pages? As consumers, we have become so inundated with marketing messages that we have become desensitized to them, and in the main find them tedious and tiresome. Often subconsciously we have our own barriers built up, like a filter that lets only the content that strikes a chord with us, this content is usually informative, original and relevant to our needs and interests.
It is now the brands duty to engineer solutions to not only grab our attention, but to properly interact and engage with the us as the consumer, the days of screaming out their message in the faces of potential customers are long gone. The one way message platform has dried up. No one likes to be told what to do and especially not to be interrupted while doing so; this is being shown by the seismic shift in consumer attitude towards brands and marketing in general.
The future is not only mobile but also shareable
"The web is content and the content is the web."
Many of us now use our smartphones to browse the web daily; the 2012 Channel Preference Study by Mobile Marketing Magazine found that over half of consumers use their mobiles to check e-mails throughout the day, while 29 per cent checked their e-mail constantly throughout the day. This represents a huge market base that, in order to stay afloat and be successful, it is essential that brands cater for. It is estimated by The International Telecommunication Union that there are over 6.8 billion mobile phones in the world and of that 6.8 billion, 1.5 billion are smartphones, this is an absolutely gargantuan market that only the very bravest/foolish brands can ignore.

It could be argued that the internet's global domination of communication was instantaneous, this may be stretching things slightly but if we delve a little deeper we find that in 1993 only 1% of two way communication was carried out through the web, this figure was 51% by 2000 and by 2007 that figure had grown to 97% and continues to grow and expand to this very day. So while maybe not instantaneous it has been meteoric to say the least. The advent of email, instant messaging, discussion forums, blogs, social networking, online shopping and in particular the recent rise to prominence of smartphones have all played a pivotal part in this spectacular rise. The internet continues to evolve and grow exponentially. The world's population are nearly all online or at the very least have easy access to the growing behemoth in our midst.
At last check, Facebook had over 1.15 billion users, LinkedIn 238 million users and Twitter more than 500 million users with 200 million being active users. These figures are simply staggering and only further enhance the point that the world has indeed gone online.
Content on the web has tripled between 2010 and 2013 (source GoGlobe & Qmee), social media sharing has doubled between 2011 and 2013 (source KPCB), 73% of consumers surveyed wouldn't care if the brands they use disappeared from their lives (source Co. Exist). The consumer has to feel that the brand cares about them; the brand has to open consistent lines of communication that the consumer can use to relay their feelings and opinions. It is the brands duty to interact and engage with the consumer no matter how trivial the task. Marketing is no longer one way traffic. The brands now have to act like publishers; it is now their duty to supply content that the consumer really desires.
Changing habits that keep on changing
"Content Isn't King, It's the Kingdom."
― Lee Odden, Optimize: How to Attract and Engage More Customers by Integrating SEO, Social Media, and Content Marketing
It is estimated by 2017 90% of all internet traffic will be video (source Cisco), the future of content marketing is consumer centric, it will be more visual, consumable and snackable, brands will have to act like publishers while also including publishers in any future marketing campaigns. The brand will have to inform, educate and entertain all at the same time; no one said it would be easy; it's time for the brands to get creative to gain our valued attention!
From a marketing point of view content is created with the intention of turning interest into purchase. The quality of the content will speak for the brand long before they have any interaction with a potential client, decisions will have been made on the strength of the content they provide leaving only the finer details of the deal to be ironed out at the final port of call, the brand. The quality of their content is paramount, it is crucial that a brands content is not only of the highest quality but also that it is original, thought provoking and engaging. A brand wants the consumer to be obliged to find out more about their product, engage in conversation with them and ultimately invest in what it is they are producing.
Performics and ROI recently did a study on 3,000 individuals and found the following:
– 34% of those who participated said that they have used a search engine to find information on a product, service, or a brand after they saw an advertisement on a social networking site.
– 30% learned about a new product, service or brand on a social networking site.
– 32% said that messages about printable coupons on social sites resonate with them.
– 28% of those responded said that messages about sales or special deal notifications resonated with them.
– Millennials watch TV with 2 or more electrical devices
Only recently one of the biggest brands in the world Coca-Cola announced major changes in their Coke Zone digital loyalty scheme, from October 16 Coke Zone members will now no longer be able to collect points from their purchases and redeem them for goods and prizes. The company have performed a pivot on their approach and relaunched the scheme as an online hub that consumers can use to locate content about its brands and competitions.
The company goes on to say in a statement:
"We are making some changes to Coke Zone following a review of which parts of the site are of most interest to people. What this review tells us is the vast majority of people visit Coke Zone for news, competitions and the chance to win great prizes and experiences, rather than to collect and redeem points in exchange for gifts like t-shirts and headphones."
This is a direct reaction to consumer driven need for engaging, interactive content, the market is speaking and when you see some of the biggest brands in the world sit up and take notice you know they are listening. The mitigating factor of Coca-Cola reporting a 15 per cent drop in profits to $1.75 billion in the first quarter may also have had a rather large part to play in this change of strategy.
The rules of marketing have changed, the consumer, through the rise of the internet and the devices associated with it have risen as one and now have a global voice that even the biggest brands have to listen to. No longer are we, as consumers, satisfied with the olden methods that predated the internet. The internet is a hotbed of content and sharing, and as highlighted earlier, is a sleeping viral giant waiting to be arisen at the right time to create havoc and spread their message to the four corners of the earth like no advertisement ever could.
We only have to look at Miley Cyrus' infamous 'twerking' episode at the at the MTV awards in August, as cringe worthy as it was and still is, if you take a step back and look at it from a marketing point of view it was an absolute masterstroke, within hours she had gone viral and had millions talking about her. She created a stir that social media carried like wildfire, MTV have recently came out and said they have enjoyed their best ever ratings at the EMA's, tactfully neglecting to mention Miss Cyrus but it doesn't take a rocket scientist to work out the correlation between the two.
It's clear that the consumer has become the important player in the marketing game, and rightly so, for too long the consumer was no more than a pawn in the marketing machine. Now through the power of the internet, social media and the smartphones in handbags and trouser pocket's the world over, the consumer now has the power to not only be heard but to drive action. It is now up to the brands to come up with the kind of creative, shareable, relevant, original, engaging content that is befitting of their time.
"Quality, relevant content can't be spotted by an algorithm. You can't subscribe to it. You need people – actual human beings – to create or curate it."
― Kristina Halvorson, Content Strategy for the Web
Try 3D Issue Hub for free.