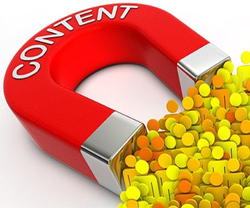 Attracting more traffic to the site is one of the most important goals for every marketer, and high-quality content creation is key to achieve it.
However, not every marketer has the time or the resources to create high-quality content on regular basis, and even if they do, many of them feel like the effort they put into the creation of that content doesn't reflect on the number of leads and the amount of traffic they receive.
Often, the problem it's not the content creation on itself, but the way it's being promoted and shared.
Almost every company right now has at least a Twitter, a Facebook account and a blog. Depending on your industry you will also have accounts on YouTube, Vimeo, Instagram, Pinterest etc. With so many channels available it can be difficult for your audience to keep track of everything your brand publishes. Besides, there is certain information that is more suited for Twitter or Facebook than for Instagram for example.
Content discovery platforms offer the perfect solution for these two problems.
These platforms can help you find news and information related to your business and give you ideas to create new content. Depending on the software you could even aggregate content from other industry related sources, offering more information and content to your audience without having to create it yourself.
That's one problem solved. What about the distribution of the content?
A good content discovery platform will create a hub that includes all your content channels in just one place. That way your audience will always knows where to go to have all the latest information about your brand.
Here are some of the points you should pay attention to when creating a strategy to increase your reach using your own content discovery platform.
Determine your objectives
Before you start creating campaigns for a content discovery platform you'll need to determine your goals. Do you want to generate new leads? increase your traffic? or just want to make your brand more exposed? Determining your objectives will keep you focused.
Chose the campaign content
Read trough your posts and select the ones that would work better on the platform or choose to automatically publish them all. If you want brand exposure, use the service to promote some of your press releases too. If you want to achieve more conversions or clicks, select posts that had great performance, that is the most viewed or shared ones.
Optimize your content
You can generate leads without directly sending the readers to a form. Optimize your posts with call-to-actions so they can download your e-book, digital magazine, your trial etc. But make sure that there is some relation between the blog post and CTA, you don't want the reader to feel pushed, you want them to be willing to do what you are asking them to do.
Observe and optimize your objectives
In the end, you just have to track the numbers. Keep a close eye on the most relevant metrics and optimize the campaigns towards them by adding various titles or new content and allocating your budget properly.
Create your content discovery platform now, and start seeing the results you've been looking for. If you have any questions or want more info about 3D Issue Hubs or any of our products, email us at info@3dissue.com.