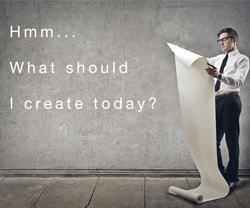 Content is king.You've probably heard this statement over and over again when visiting each and every marketing blog on the internet.
Some people would argue though that value is the king, but in reality, the only real king is your audience.
Your content will vary from channel to channel depending on your niche market and your perfect customer persona, but there are still some content creation best practices you should always follow no matter what.
• Don't mess up user experience – Creating content just for the sake of it will lead you nowhere. You can create a 2000 word blog post filled with quality info, but if the reader is annoyed by constant popups while reading it, it may lose its value.
• Tailored to the needs of your communication channel – Imagine the same blog post published on your Facebook and on your Instagram pages. It wouldn't look right, would it? and if it doesn't look right, how is it going to increase the engagement with your audience? Each social platform and communication channel, has its own requirements with regards to content, stick to them.
• Build a story – Leave the outbound marketing for TV adverts and newspapers. When deciding to create digital content you should focus on inbound marketing. Offer a product to your audience, build a story around your product and make people see it as a necessity.
• Think big, go micro – If social media content is a part of your strategy (it really should), you should start thinking about hiring a professional copywriter. Why? Remember Oreo's tweet during the 2013 Superbowl blackout? One sentence and an image got 15k shares in a matter of minutes.
• Blend in with your audience – Your product or service isn't the only thing that exists in this world, and your audience has other interests in their lives. Managing to combine your product with modern culture and the fields of interest of your audience can bring you astonishing results.
• Consistency is the key – Stick to the same voice all along the ride. Every bit of content you post on the internet, especially on social media, stays there to witness how you behaved towards your audience and will contribute to your brand image. When building a story for your brand you should also start thinking about building recognition, and consistency is a big part of it.
Now that you know how your content marketing strategy should look like, it's time to talk about some content creation ideas.
• Beat your competition in their own game – For this, I would recommend using Buzzsumo, where you can find the most shared content in your niche and get to know the influencers for each social media channel.
The idea here is to take a piece of content from your direct competitors and make it even better. For example, if your direct competitor publishes an article titles "3 Reasons why you should go to Dubai" and it gets 300 shares on Facebook, go and make a "20 Reasons why you should visit Dubai" article filled with videos and testimonials from your customers.
• Learn from your audience – Be active on the forums where your users spend their time. Learn what they see as an unsolvable problem and try to solve it on your communication channels or with your products.
• Give your audience control – Publishing user generated content is one of the best content creation ideas. By doing this not only will you generate new content without trying, but you will also engage with your audience. Hubs lets you publish user generated content from approved authors automatically and through an email for example. A quick and nice way to start your publishing endeavours
Using a content app and a hub will save you hours of content curation too. Check out what does our app offers and how can you make it a part of your content strategy.