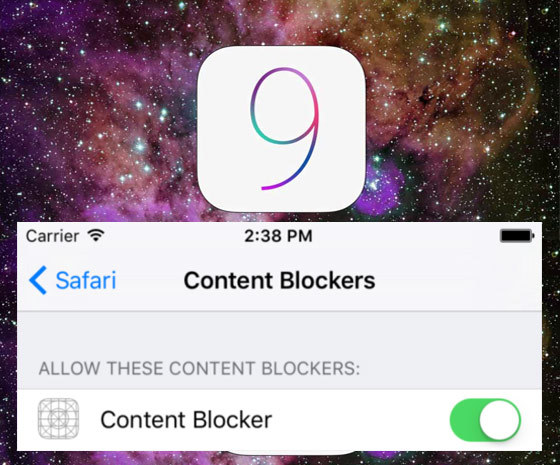 Due to be released this Autumn with Apple's new mobile operating system, iOS 9, is a function for "content blocking" in Safari.
The scope this new development will have cannot be denied and it is expected to have immense effects on content and web browsing habits.
The pros
The possibility of speeding up web page load time by blocking ads, trackers, cookies, pop-ups, scripts and other content is the key benefit. Other advantages include the fact that users' privacy will be protected and as the content will be filtered; this will mean that data usage will be reduced on the devices used, resulting in longer battery life, and money saved on users' data plans with their mobile network provider.
Users have long complained of unwanted advertisements in the form of display and video ads spoiling and interrupting their reading times. These types of elements that can slow down the speed of a web page will be eliminated from view; making the users' web experience much faster than it has been in recent years.
What will happen paid ads?
Publishers and media sites who rely on these paid advertisements will be at a distinct disadvantage and now need to focus efforts into strategies that will counteract the negative effect this will have on business. Predicted is a greater focus on content marketing, paywalls and finding innovative ways of showcasing content that loads quickly while still consists of everything the publisher wishes. Aggregation tools to curate news and content are now being tested by marketers and publishers that are looking for a solution to this impending unsettling development to the way their content is to be filtered. See an example here of a solution to this dilemma; a ezine, content Hub and news app created with 3D Issue publishing suite. For more information of showcasing your content like this please email info@3dissue.com.
How a "Content Blocker" will work
Users will have to download and install a content blocking app from the iTunes App store. Once installed the app will need to be initialized by going to the settings menu on your iOS device.
Once the app is up and running, you can look forward to safari blocking unwanted content from loading while you are we browsing making your experience faster, more private and less annoying. You may simply load the article you want to read without all the extras that have slowed your experience down in the past.
See content before and after blocking
If you want to see the all the content, even though you have installed a content blocking app you still have this option also. You simply long-press the reload button –Safari iOS9 has enabled this in its future release.
How publishers will cope
Publishers are under threat of not being able to track their clicks, visits and other data, as tools like Google Analytics and Optimizely may also be affected. Apple also intend to launch a new news app in their iOS9 release. Perhaps Apple will be the ones to benefit here as advertisers can purchase paid ads through iAds to get their ads to appear within the app, so in the long run, you have to question Apple's motives for these new changes we can expect to see in September.
By Audrey Henry