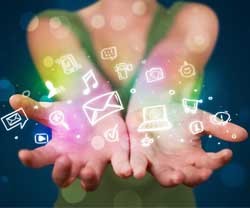 As you know, the quality of the content you publish is extremely important to reach your audience and keep them engaged.
However, that's not enough to succeed. Not nowadays anyway. There are too many competitors and too many options to choose from. That's the reason why content amplification is so important.
There are different content amplification strategies that you can put into practice. All of them have their own pros and cons and their own approach to increasing your audience.
But if there is one thing you should ask from a content amplification platform is ease of use.
At the end of the day you and your team have already spent enough time working on creating good quality articles, videos, posts etc. You shouldn't have to spend more resources on tasks that could easily be automated and get you the same or better results.
With this in mind we've tried to create an intuitive and straight-forward platform that is already helping marketing teams from many successful companies all over the world.
All your Content in one Place
Audiences are broad and dynamic especially when you work in international markets. In fact, unless you target a very narrow market niche, chances are you'll have very different customer profiles. Some may be more active on Twitter, others on Facebook, others may like your blog posts and others may prefer videos.
Besides, having so many platforms to publish content on it could be difficult for your audience to keep up with all your news, promotions etc. People are busy and have hectic lives, the last thing they want to do is spend hours trying to search for news about every single company they follow.
Hubs lets you avoid this situation completely. The main purpose of Hubs is to let you add and organize all the content you publish in one single place.
This makes it easier for your audience to find what they want and it helps your content reach more people. Why? Imagine that someone that usually only follows you on Twitter reaches your hub. Once in there they see content you've published on YouTube and they like it that much that they start following you on that platform as well.
Now you have one more follower and more chances of your content getting shared, the whole point of content amplification.
Optimize For Different Environments
By now you probably know already how important it is for your content to be responsive.
There are so many devices and screen sizes available that otherwise it would be impossible to offer the best experience on all of them. As a consequence the efficiency of your content distribution strategy would be diminished.
3D Issue Hubs makes your content responsive so it can be viewed on any device be it mobile, desktop, Android, Windows or iOS so you can offer the best user experience to your audience. (By the way, if you are more interested in having an app for all your content, 3D Issue can do that for you too).
Hubs does this automatically without needing you to do anything. As soon as your hub is created, all the content on it will be responsive.
Easy to Share
One of the main keys for content amplification is the ability of the content to be shared.
When you create a hub with 3D Issue Hubs you'll have the option to share it directly by email, Facebook, Twitter, LinkedIn and many other platforms with just one click, you could also use the unique link that is generated to share it everywhere and with everyone or you could even embed it on your site if you prefer to do so.
This makes it really easy for you and your audience to share the content you've created, reaching every corner of the world.
Look at your hub as a platform that stores all your content automatically and as soon as it's published, a platform that makes your content widely available and a platform that grabs your audience's attention with the ultimate goal of leading them to your brand and your site.
If you are ready to start your content amplification journey with your hub, you can start your free trial now. And if you have any questions send us an email at info@3dissue.com