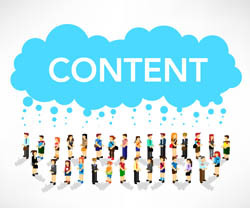 Content aggregators are cropping up in our everyday lives more and more, and with good reason. The beauty of the internet is having a wealth of knowledge at your fingertips. While this is a fantastic resource, what about when that wealth of knowledge is too much or too time consuming to digest on a daily basis?
This is where content aggregators come into play.
Content aggregators can be utilised in a number of ways. For private use, they can be used as a centralized portal for your daily news digest, rather than trawling through all the websites that you would normally use for locating information. Content can be aggregated into a single 'one stop shop' that can be easily digested. In today's busy world, we do not have time to go through everything that we may find of interest, valuable time can be saved and better managed by using a method of content aggregation.
It has been pointed out on these blogs previously the advantages of using content aggregators for mailing literature such as newsletters, which traditionally would be very time consuming to assemble, with Hubs such projects can be completed in a fraction of the time.
Consumer behaviour has a big say on what content aggregation can do for your company or readers. If you know what your reader interests are, it then becomes easier to pinpoint these interests. Curating only the points of interest that are relevant to the consumer to a more specialized content portal rather than a general newsreel that won't hold the viewer's attention for as long as possible makes logical sense. We all know that the viewer's attention is something that cannot be taken lightly, I do it myself, if I am browsing the web and something does not immediately catch my focus on a particular website, I will move onto something else that does, it is human nature.
It is also worth noting that using content aggregators such as 3D Issue Hubs, in conjunction with RSS feeds, can keep your website updated daily, ensuring your site is fresh and up to date, this has a positive knock on effect in regards to 'pulling' readers towards your site rather than 'pushing' output to them in the guise of e-mail campaigns and other methods.
Viewer retention is vital in terms of both creating and increasing revenue through advertisements, but also in terms of adding to your existing readership and retaining the readers that you already have engaged and returning to your site in the future. Image thanks to the nice folks here.