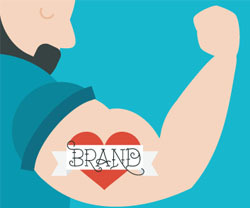 Mobile moments and their role
Mobile moments are all those times in a day when you reach for your phone in order to get something from it. The average person using a smartphone has more than 100 moments like this during the day.
If you're looking to create a strong brand, you can see how this can be huge. If you manage to find a way to get your app in the face of your users every time they pick up their phone you could be sitting on a gold mine.
Let's say for example, that you're a local pharmacist and want to build a strong community surrounding your business. A good idea would be to build an app that will remind your customers when to take their medications or when you have special offers for highly demanded products by using push notifications.
Once you have built the app, make it accessible, promote it, and try to solve an everyday problem that your user base is facing. In summer you could publish tips about how to protect the skin from the sun etc. Your users should find it valuable.
The more the merrier
What happens when different parts of your audience express different needs? You may have customers that are parents of newborn babies and young people in their 20s, the information they are looking for will more than likely be different.
For those cases instead of creating different targeted apps (which apart from being complicated to maintain, could be expensive) the best option is to build an app that lets you organize all your information in different categories and that presents all the content in a clear and organized way so your customers find what they are looking for straight away.
Make your presence known
We mentioned push notifications earlier, and it's time now to see how you can make the most out of them.
People want to feel important and valued by the companies they trust. If these people made the effort to download your app, try to make them feel special every once in a while.
Creating local events for your app users and inviting them by using push notifications is one way to go. Be creative.
Your app is your canvas
Think about your mobile app as a canvas where you can paint a picture of your brand's core values and interact with your customers while you're at it.
Always try to make your app match the image of your brand, your core values and the rest of your marketing efforts. Be consistent.
Satisfying the needs of your customers is one thing, but you should also consider building a mobile app that will be a part of your brand building strategy for a long time.
First comes UX (User Experience) then conversions
People won't appreciate it if you are constantly nagging them with product offers and notifications.
You should first get their attention, once you've done that you can start thinking about steering them towards your offers always without being too obvious and providing some additional value.
Most of the stuff we discussed in this article can be achieved with other communication channels, but as the world evolves around you and your business you'll soon start to realize how mobile apps are becoming the number one tool for building a successful brand.
Start creating your own app right now with 3D Issue's app platform's free trial. You don't need to have any coding knowledge and if you have any questions you can email us at info@3dissue.com.