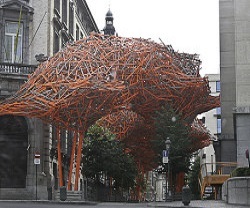 In our blog today we will take a look at one of the main attractions in terms of facilities for innovation and creativity in Europe. Could Brussels become the Next Silicon Valley? According to this report, a facility called The Egg in Brussels has a great potential to become the top spot to experience the latest technological developments.  In the words of the facility's director, Alain Heureax, 'this space is a nest of communications, creativity and collaboration'.
The place has evolved from media and marketing in 2003 to arts and innovation at the present time and the future seems promising as further plans for the infrastructure are being made. The facility provides visitors with a unique experience through a physical space that reflects the power of art, expression, innovation, and risk.
What kind of benefits can be expected through this project?
This effort to support creativity can certainly provide the necessary tools to foster innovation in Europe. According to Alain Heureax 'Europe's role as a center of innovation has changed in the past from a leader to a follower and there is a need to constantly innovate and to create an infrastructure to support creative ideas'.

Will the next technological boom come from Europe?
Creativity and innovation are key ingredients for new developments and adequate resources can certainly result in the improvement of product offerings and even the introduction of new ones. This article asserts that this innovation centre can be considered as a cornerstone of the new and growing Europe; so we can expect to welcome innovative technological developments in a near future. Likewise, innovation can result in the development of new tools in digital publishing sector. For more information on the latest trends and statistics, visit our blog section.
Image thanks to the nice folks here