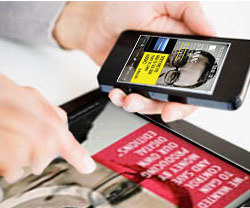 Now is the time for digital media marketers to think on all levels at the initial design stage of new projects. With considered brochure design, the digital versions can lead to sales and orders online. The design should be developed in such a way as to encourage this. The goal that should be foremost in your design strategy is to gain more web traffic to your site, more followers on social networks and more revenue from your brochure.
1. You can add a background, this can be an image or photo to enhance the brochure. It could be a product or advertising image you have created previously. Here you can make use of it again.

2. You can add images in the design stages that can incorporate hyperlinks in the digital version.

3. You can add images in the design phase to show where you will add video, and add it in the software.

4. You can add interactive banner adverts along the top of your publication that transition and link to other websites.


5. You can add call to actions that actually enable you to jump to pages or other sites instantly.

6. You can add all he icons of the social networks you have profiles on in your brochure, on contact us pages. Then in the digital publishing software create hotspots over these images within your brochure so the reader can navigate directly to your profile. This is a method to get more folllowers.

7. You can develop your design with spaces or framed areas that you can add animation once in the software. The effect of these can look amazing. And give your viewer a nice visual surprise.

8. Design can become interactive you can add shopping carts so your customers can buy directly from your ebrochure. You can tie in elements like "special offer" and "buy now" graphics around the shopping cart to further enhance the temptation to purchase.
Hope you found today's blog interesting and that we have informed you on digital brochure design features that you can have over print counterparts. Happy publishing!
By Audrey Henry