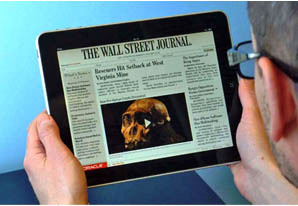 If you have decided to go digital with your print publication, you may be interested to know some easy tips to bring the publication to life and therefore make the most out of your digital solution application.
There are a few key features that can give your digital newspaper readers great benefits to reading a digital version:
1.       Contents Menu
A simple feature with huge benefits. Enabling the contents menu in your digital editions means that readers can very quickly locate the section of news they wish to read. Quickly jumping to the relevant areas of interest allows your reader to find the desired information much faster than they can in the print publication.
2.       Search
Readers of a print newspaper may often be looking for a specific word, term, journalist's article or headline. This is difficult to achieve quickly in a print publication as each page must be looked through. Activating the search feature on your digital newspaper will allow the reader to pinpoint the specific phrase or word in seconds with a click.
3.       Video and Audio
Rich media such as video and audio can really enhance the publication and bring it to life. Consider adding in video / audio versions of reports, articles, interviews and even advertising. This offers your digital reader more variety and can hold their interest and time spent consuming the publication.

4.       Sharing features
Readers often wish to recommend a particular feature or story to their friends – this also helps you increase distribution of your publication and gain new readers. Enabling Facebook, Twitter and Google+ sharing features can allow readers to publish the news to their social accounts, fast.
5.       Publications for offline mobile readers
Digital publications can be viewed across multiple platforms (if created by a digital publishing solution that is mobile compatible). This can significantly increase readership as the publication then is accessible to commuters or readers on the move. Enabling the download option for mobile versions (Apps in 3D Issue) will ensure these readers can download the publication to their tablet or mobile device to be viewed offline too.