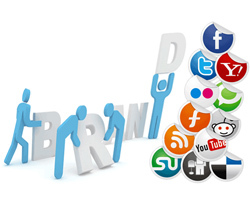 When you get thirsty on a hot summer day, do you ask for a soda or a Coca-Cola? It took a long time for Coca-Cola to become one of the most recognized brands in the world, but like every brand they also had to think about how to build their brand awareness at certain point.
The main difference with today's world, is that you also need to think about building your brand awareness through social media . These platforms are the communication channel of the present and future after all.
We've already talked about how digital media will evolve in the future, and it's pretty safe to say that social will be a big part of it.
Before we start talking about the specifics of building brand awareness through social media, let's see what you need to do to stand against your competitors.
To implement a successful social media strategy, you first need to:
• Find your market – Get to know your audience and, more importantly, find out which social networks they are using. This will give you an idea of how you should present your content marketing efforts and of which channel you should use to reach your audience.
• Set up a strategy – Pick the social media channels you are most interested in and focus on them. Create a publishing calendar and outreach tactics (more on this later).
• Track your progress – Do this from day one. The use of link shorteners like Bit.ly for your social media efforts is a nice way to gain an insight into your user engagement.
Now … Let's get down to business. Eight smart tactics for building brand awareness through social media:
1. Referral programs – Give your fans some encouragement to share your page and invite a friend to it. Your referral program doesn't need to include a financial aspect. Coupons, Freebies, vouchers and gift cards are a good point to start.
2. Discuss trends – Each social media platform has a trending topic day in and day out. Be a part of the conversation and try to promote a unique voice of your brand.
3. The perfect balance of engagement and action – Providing value and engaging with your audience is one thing, but you should also make them take action. Just make sure you aren't too obvious about it.
4. Visual content – A very different field compared to other communication channels. Sometimes a 20-second video can bring you more followers than a 2000 word blog post. Think about infographics, they're both informative and shareable.
5. Social contests – The difference between referral programs and contests is the timespan. Contests have a predetermined duration and don't reward all the participants, while referral programs are ongoing and reward all successful participants. Make your product a part of the contest.
6. Podcasts – If you're trying to become an authority in your niche and develop a unique voice, podcasts are probably the right tool for you.
7. Social advertising – The best part of paid advertising on Social Media, is that it's totally customizable and that you can be pretty precise with your targeting.
8. Create a Hub – Last but not least, create a digital hub in which you can gather all the content you share through your all social networks and digital channels. Customize so it fits your branding, use your colors, your logo and anything that will help the users identify your brand. If you share interesting posts, videos, pictures and information, your hub will rapidly become a point of reference for your audience.
How are you building awareness about your brand on social media?