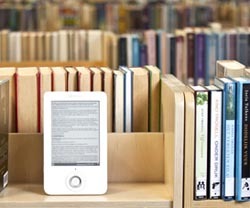 E-books have continued their steady growth in recent years, new data from Bowker Market Research indicates that Ebooks have now captured 30% of market share in comparison to 27% market share during the same period in the year previously. Although this rise is not as dramatic as previous years it is still significant as e-Books continue their upward trend in terms of adoption rates and infiltration.
"Three in ten adults read an e-book last year; half own a tablet or e-reader" (Source)
While this figure is not as significant as earlier e-Book sales, this is mainly due to the fact that earlier years were was such a huge success in e-Book terms, especially for certain titles like Fifty Shades of Grey and The Hunger Games. This is not to say that eBooks have plateaued or anything along those lines, indeed the above statistic will allude to this, e-Books are continuing to grow and garner traction, just not in the same, impossible to maintain, meteoric rise of its formative years.
E-Books remain in as strong a position as ever, the platform showing incremental increases in adoption rates on a consistent basis. A report by Pew Research Center supplied some interesting statistics and data which you can view below.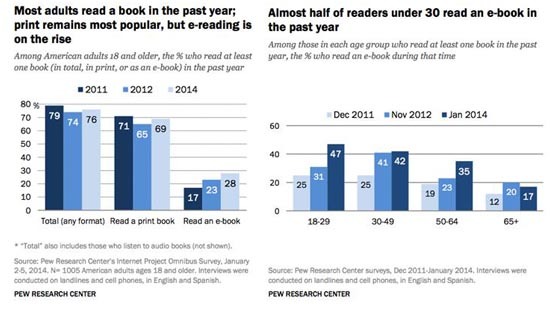 We can clearly see from the graphs above that while print remains a popular and viable medium, eBooks are clearly on the rise. Every eBook platform grew significantly over the past few years. The exponential rise of smartphones and tablets has added further credence to an already substantial presence.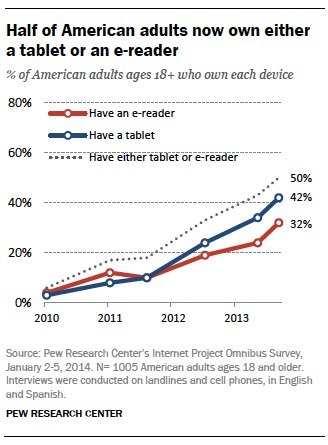 E-Books and the devices used to consume them, are reaching more markets and a broader range of people than ever before. Do not be surprised to see the next survey reflect this with reports of an increased adoption of the platform, make no mistake, this is market that will only continue to grow. This may be to supplement established platforms or as stand-alone platform. Indeed we are now witnessing the rise of self-publishing, this medium has made it easier for genuinely creative talents, talents who may not otherwise have been afforded the chance to publish in traditional terms, the chance to shine.

Do you have a publication that you would like to produce onto the eBook platform?
Do you want to create your own e-Book complete with interactive features and enjoy all of the benefits of this ever blossoming platform?
Then why not try out the free, fully functional trial of 3D Issue today and give your publications a new lease of life.