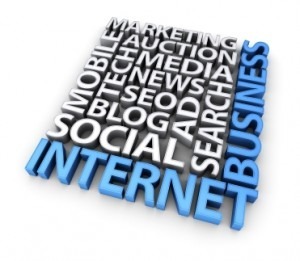 Recent news from Independent.ie shows exactly how budding authors can advertise themselves through Facebook, thereby allowing publishers to know all about their talent.
The Author from Northern Ireland has said that she can't believe her book was picked up by a major publisher. Leesa Harker was able to catch the eye of the publisher initially from her comedy Facebook posts which resulted in 25,000 likes on Facebook according to the Irish Independent News article.
Leesa Harker was able to use the themes and storyline from the original novel by E.L. James 'Fifty Shades of Grey' and implement it into her more localised story called the 'Fifty Shades of Red, White and Blue'.

Leesa Harker could have also considered self-publishing her work, which would have given her a possibility to utilize the fan base from Facebook and sell her publication via her own website gaining more revenue for her.
Another example of self-publishing is J.K Rowling and her recent decision to publish via e-book only on the Pottermore website.
A similar tactic to Leesa which went viral has been used by Dave Caroll, where United airlines has suffered greatly from the power of viral marketing through the protest song of the Canadian singer Dave Caroll 12 million people have watched that particular video.
The song was about the singer's guitar being broken by the airline crew and not receiving a compensation thereby leading him to post a YouTube video about it and eventually a recognized music career. Demonstrating how Social media can be leveraged to access bigger things!