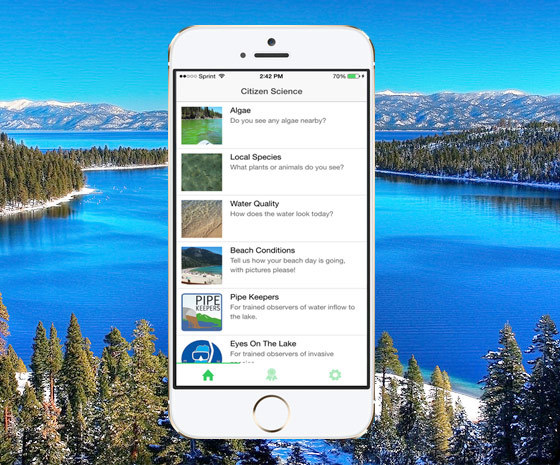 For today's blog stimulated by inspirational conservation stories I will have a look for the best mobile app for environmental issues and share these findings with you.
Mobile apps can make everyday activities more useful; they can be used for recording information, they can make life more entertaining by providing us with games to play and they can also inform us of content we follow or news we want to keep up to date with.
There is no doubt that app usage is overpowering mobile web time and with technological advances this new mobile app revolution can involve us all.
First off, let's stop off at Lake Tahoe! News of mobile app development to help promote and protect the environment is good for the residents and visitors to this popular vacation location. Beach visitors will be encouraged to become scientists for the day or the duration of their stay by entering the data in their mobile applications as they encounter them throughout their outdoor pursuits.
Citizen Science Tahoe is actively asking tourists and locals to submit data they find on invasive plants and wildlife especially. The mobile app users can enter a photo or and a description of the flora and fauna they find to the app and add in their own notes and findings if desired also. The app automatically records the exact geographic location of each entry along with its time and date.
Data gathered by the mobile app users:
Visitors will feel they are assisting to conserve the natural beauty of the stunning location while having the added incentive of gaining points with each submission. The app downloaders will be able to comment on the water and ecological quality and such findings from vast numbers will provide worthwhile information to the scientists to determine what's happening and affecting the lake at all times of the year and through all seasons.
The results of the app findings based on lake levels, temperatures, water color, clarity, algae and much more will be available to the public through an exhibition at the Sierra Nevada College. Here everyone involved can feel a sense of pride in the knowledge that the data they have collected can help the beautiful landscape for future generations.
Lastly, I would like to pose a question to you: "What do you think are the best mobile apps you have encountered?" What features, in particular did you like about them, please feel free to comment in the dialog box below. I'm sure everyone will have vastly diverse favorites with so many apps available.
By Audrey Henry