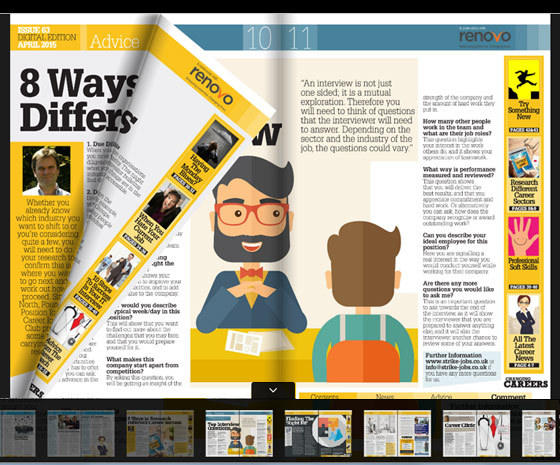 We receive enthusiastic emails and phone calls daily asking us the various capabilities of our desktop publishing software. We are proud to be able to meet almost all of the expectations that our publishing customers have. We have developed the software over the years to suit technology advances and our customers' changing needs.
A typical question from a customer: I'm looking to convert a monthly publication, to iOS and android phones and tablets. We must be able to brand it as a custom app on the App Store and Play Store. The solution must be cross platform and responsive.
3D Issue answer: Yes, this is no problem. All the flipbooks, ePublications, magazines, and digital editions you create can then be published to an app. We create branded business apps for our customers tailored to their specific requirements, we submit the apps to the App and Play stores and get them approved for our clients.
• Improve lead quality through the creation of eCatalogs.
Our software will allow you to gather precious nuggets of information on which particular content that resonates most with the consumer, which ads, products, video demos, and buy now; CTA's are getting the most clicks. This invaluable data can drive your SEO/SEM strategy which will improve lead quality and ultimately sales.
• Create a Content Hub
Our software suite has developed into a cutting edge publishing solution, you can use the areas of the software that best suit your publishing needs.
Create multi-channel content aimed at different sectors of your audience, not all of your audience will be interested in the same content, through the use of marketing automation you will allow each segment to be taken care of, without the need to spend all day doing it. Learn how to create a Hub in these video tutorials.
• Deepen and solidify relationships with your audience
If you are creating all types of content and sending it through various types of channels, you will build strong relationships with consumers across the board, they will come to regard you as a thought leader, someone with a respected opinion in your field.
Get acquainted with the best desktop publishing software for you today:
– We invite you to try our software for free for 14 days.
– Join a free webinar
– Find out more about the 3D Issue team
– Email or call and ask any particular questions that your publishing and marketing strategies may require and we can advise you.
By Audrey Henry