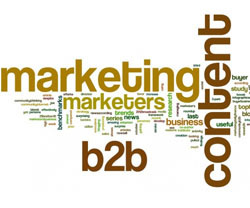 According to a recent study from "The Content Marketing Institute", today over 90% of the companies that market their products or services to other businesses use a content marketing strategy.
Less than half of these companies document their marketing efforts using a b2b content strategy and nearly two thirds have the opinion that this type of promotion is either ineffective or doesn't provide a clear value.
These numbers are pulled out of Content Marketing Institute's research about the trends that we can expect to happen in 2016 in the b2b content marketing sector.
Going through this detailed study it's easy to see how there are four key reasons why b2b companies fail to meet their marketing goals with their content creation efforts.
1. Not existing or not documented b2b content strategy
If you want to know what works and what needs to be changed in your content marketing strategy, you need to determine first what you want to achieve.
To start creating a strategy you need to have a clear plan that outlines the exact steps you'll conduct in order to reach your particular segment of the audience. That plan should also include all tactics and tools you'll be using as a part of your strategy.
2. Wide audience targeting
Another important mistake that many businesses make is not picking their perfect buyer persona and trying to target too wide a scope.
Yes, the audience in the b2b sector has its own set of shared traits, but it's always better to be a little bit more specific and try to find out the exact type of person in the company that will be making the final decision when it comes to buying or not buying the software.
If you're selling software to create invoices for transportation companies, you may target people that work as account managers in freight forwarding companies. It's usually better to have one hundred of highly targeted people visiting your corporate blog, than having thousands of random visitors that don't have any interest in your product, or that even if they do they have no influence in the decision making process at all.
3. Communicate your b2b content strategy
Around 44% of businesses that have a b2b content marketing strategy revise the whole process less than once a month.
If you want an effective b2b content strategy, you'll need to build a team that will support it and update it on weekly basis in accordance with your ideas and the results of previous content marketing efforts.
Hold regular meetings where your content marketing team and your strategic marketing team discuss the effects and ideas about your b2b content strategy are necessary.
4. Update your goals and objectives on regular basis
The previously mentioned meetings should always contribute towards the improvement of your previously documented b2b content strategy.
You may had presumed that promoting your content about industrial drills on Pinterest was a good idea but realised later that thanks to its targeting options, focusing on LinkedIn was probably the most efficient choice.
Insider's tip
One thing that people in the b2b sector don't have is time. A platform that sorts all your content based on predetermined parameters and that would adapt itself to meet your users' needs could help you achieve a level of customization not possible otherwise.
3D Issue Hubs allows you to create a branded platform where all your readers could easily access all the content they're interested in. Start your free trial now, and if you have any questions, please email us at info@3dissue.com