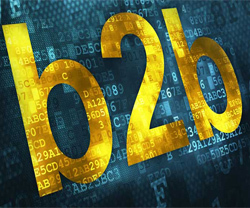 Marketers are becoming enchanted by the effectiveness and ease of implementation of certain b2b content marketing strategies. On paper, reaching out to businesses and corporate decision makers can be very different from carrying promotional activities that target wider audiences.
However, B2B marketing has more in common with B2C marketing than you think. As a matter of fact, both need to focus on a highly targeted customer persona and rely on providing added value to their audience.
Let's dive into it then, what's the best way to reach your B2B audience?
Editorial Calendar
Having a schedule, a calendar is as important as it is having a strategy. Without proper organization you won't be able to implement your strategy effectively.
Although it sounds like an obvious first step there are too many content marketers that tend to ignore it, this often leads really good marketing plans to failure.
Let's imagine for example that you have various communication channels that are working and engaging your audience, and you decide to use them to promote your content. If your writers don't have a structure to follow, an idea of the topics you want to cover every week, they may end up writing about the same topics over and over again or they could even miss the opportunity to write about an event that's coming up etc.
Another important aspect to take into consideration is the timing of your articles. Do some research and find out when is the best time to publish a new article. Ask yourself, when is your audience more active? At what time of the day do they like to read your content? Once you have your answers plan around them. If they usually visit your site at 3pm you should probably have your content ready by then.
Content
Now that you've done your research you know when to publish your posts, what channels to use and how to reach your perfect customer persona; but what about the type of content you'll be publishing?
B2B users tend to be more critical of the content your produce because they're already familiar with the topic. They know what you are talking about and just a few facts and statistics won't suffice.
Case studies are the best way to "impress" your industry peers. Why don't you create an e-book or a series of newsletters so they can see how your products and services have worked for others.
Depending on your audience's demographic and your industry your content will change, but one thing is certain, video, audio, a digital magazine, an app or a hub, no matter the format of b2b content marketing you choose, case studies are always effective and improve brand recognition.
Increased Visibility
Blogs are still one of the best resources when it comes to increase the traffic to your site. Having a team that works on new articles on a day-to-day basis will guarantee you fresh content every day.
However, not everyone likes reading, some people prefer videos or more visual content. Besides, every channel is different and all of them have their strengths. Make sure you create tailored content for every promotional channel you are using, videos for YouTube, posts for Facebook, your blog etc.
This will help you create a strong brand and reach a wider audience. You can even create a hub so all your content can be accessed in just one place.
If you decide to create a content hub, you can check out our hub app or contact us at info@3dissue.com.