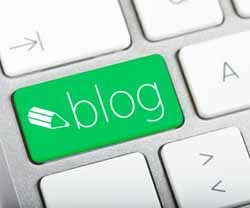 Running a blog requires planning and research especially when you have an audience you don't want to disappoint or when you are making a living out of it. On paper running a b2b blog it's not much different, but since the audience is usually smaller and less broad it could sometimes pose a bigger challenge.
Let's be honest, not everyone can write a 1000 word article in an appealing and interesting way, let alone do it on a daily basis, about a given topic and directed to people who usually have a good knowledge of the subject.
So after all the effort, work and resources you've put into it, when you've finally written your post you want it to be read by as many people from your targeted audience as possible. Don't you?
Let's see what you can do to increase the shareability of your B2B blog:
Take a look at your competition
A good starting point when trying to improve the reach of your B2B blog is doing some research on your competition.
Get a list of the most successful B2B blogs and bloggers in your industry and look at what they are doing, what they are writing about and even which posts seem to drive more "likes", comments, followers etc.
That along with your previous research on the market and the figures and data you've gathered over the years will give you a thorough idea of what is resonating with your audience.
With this information in your hands, you can start building a plan. Think about topics for your blogs, look for keywords that would work for those topics and write some title suggestions down (sometimes you will need to modify the title after writing the article as you may come up with a better approach to tackle the subject).
Now that you have all that ready, schedule each post in a weekly or monthly plan (the time frame will depend on your industry and how dynamic it is).
Be active
Look for communities, forums etc. that are popular among your users and invest time building a presence on them.
This will significantly improve your position in your niche, help you form strong relationships with the right people and ultimately create a group of advocates of your brand that will promote your content.
It might take some time to build that presence so don't expect results straight away. As you know trust takes time. However, if done properly this is a solid long term strategy that usually generates great results.
Make the sharing easy
No matter how good your content is, if you don't make it easy for your readers to share it, it won't happen.
Mistakenly, many people think that since they are writing a B2B blog the audience won't share it on social networks. The reality is that as long as the content is interesting and well written your content will be shared if you give them the chance to do so.
Include the social sharing buttons that best suit your industry on your blog page. If you frequently create and publish videos include a YouTube share button, Pinterest for infographics and Twitter and Facebook for almost anything.
You can even create a responsive hub with all your online content channels and share it through email campaigns etc. That will actually make it easier for your audience to find what they want, when they want it.
If you have any questions or comments please send us an email to info@3dissue.com and if you want to try and discover how you can revamp your digital content to get the best results try out our digital publishing platform.