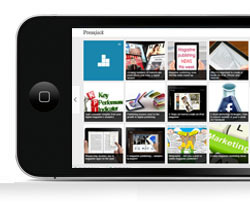 Most businesses are already aware of the benefits that blogging and updating their site will have on the amount of traffic, leads and sales that such methods can bring to your company. High quality, original, relevant content delivered on a consistent basis is proven to drive more traffic to your site and generate more leads to translate into sales, and at the end of the day, sales are the lifeblood of any business. Creating and updating your blogs and content can take time, so if there are any methods that can automate any part of the process they should be explored and utilized to their full potential.
Once you have your premium content in place you want to share it with as many people as possible but crucially, you want to share it in the right places and at the right time. This wasn't perceived to always be possible, with the variety different of time zones creating a potential logistical headache depending on which geographical market you are targeting. That is unless you plan on staying up throughout the night to cater for these different markets turning you into a social vampire and even then you won't be able to maintain that vigil for long!
Thankfully we don't need to be drinking coffee by the gallon in order to skip across time zones and deliver our content at a pre-mediated time. We have means of automating this process which ensures you never miss an opportunity within any time zone, leaving no country unaccounted for and no potential customer out of reach. There will be certain times when it is best to post to certain social sites; there are times when your content will be better received largely down to the time that it is posted. Research has shown that companies who use auto publication tools to post to social media sites generate three times as many leads as those who didn't so the figures speak for themselves; this is a market you simply cannot ignore.
At last check, Facebook had over 1.15 billion users, LinkedIn 238 million users and Twitter more than 500 million users with 200 million being active users. These figures are simply staggering and only further enhance the point that the world has indeed gone online.
Getting the most out of your content through auto publishing
We have established that blogging and regular content updates aligned with social media sharing are vital components of any modern day businesses marketing plan, it is up to you to fine tune the smaller details that can make all the difference in this approach. Optimizing your blog titles and content with keywords is a well-traversed and well rewarded approach but the real jewel in the crown may be the timing of your updates within certain time zones after all your content will likely miss out on some traction if your content is being posted at 3am in Australia, America or the UK. We only have to look at statistics that on Facebook, engagement of posts are 18% higher on a Thursday and a Friday and 32% higher at weekends.
Twitter is a slightly different conundrum but still yields figure of a 17% increase at the weekend. The time of the day that will return most shares on Facebook is estimated in some circles to be 1pm and 3pm to get the most clicks. Again Twitter is a slightly trickier prospect in terms of prediction but later in the evening tweets and especially weekend tweets tend to be more successful in this aspect. These times could have a direct correlation to when people say, have their lunch and are keeping themselves occupied through social media, the same logic could be applied updating at the weekend when people have more free time.

Results vary, other studies show that weekdays can have a higher return rate in some circles so it is definitely something you will have to experiment with, what isn't in doubt though is that scheduled updates give you the best chance of reaching potential markets and we have to use this to our best advantage. A good way to gauge this could be that if you employ an email newsletter list, monitor what time of the day people sign up for your updates and target them at the same time in the future. The main factor in all of this is down to the individual business and their understanding of their own audience and how they behave and interact with blogs and updates at different times of the day and of the week.
Understanding your audience is absolutely crucial in all of this, you also have to be posting blog and updates which will have a genuine use and interest to them otherwise it won't matter what time of the day you post.
Once you have the proper content in place you have to use any and all means available to you to maximize its potential, as I alluded to earlier, automatic updating will become your new best friend, when using feeds, blogs or dynamic sources, you can set your publication to update by itself. Platforms can be employed to check your sources at a predefined date and time and then add any new content to your publication then email you to let you know that your new responsive publication is ready.
There are many other features that auto publication tools that can employ that will make your life a lot easier while raising your brand profile and increasing your site traffic, I have listed some below, can you afford not to give it a go?
– Create one strategy for all devices – create responsive publications for tablets and smartphones. Allow for consistent presentation of content across all devices.
– Social media sharing – promote your content throughout your social network with social sharing tools. Allow your readers to help increase traffic to your content by enabling them to easily customize your content around their interests and promote your content through their social network.
– Video and audio integration – Integrate video & multimedia into your responsive content. Youtube has a million video downloads per day; this is a market that simply cannot be ignored.
– API abilities –RESTFUL API that exposes all of the functionality to all users. With this you can build your content in any language, on any platform and integrate into all of your applications.
– Built in statistics engine – Watch everything from how long the consumer spends reading your content, to what are the areas that interest each individual reader the most, or what types of articles have the highest efficiency.
– Custom URL's – create your own unique URL's to suit your brand and make your content archive resonate with your audience and enhance your search engine visibility.
– Responsive layouts – dynamically check the resolution of your readers' device and automatically format your content to suit that resolution. No pinching or zooming, just beautifully formatted pages.
– The ability to publish to any platform (an essential tool in today's smartphone laden world) – your content will automatically adapt to fit the resolutions of any desktop, laptop, tablet or smartphone device.