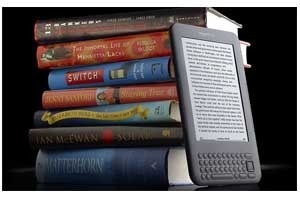 According to experts, there is a revolution in the book world. …. But can anyone be a novelist?
The author of the Ragged Cliffs trilogy, Julian Ruck expresses his views on this topic in an interview with bbc.co.uk. As an organizer of the Kidwell-e Festival where approximately 20,000 participants attend hoping to become published authors, Ruck describes this event as the most innovative, exciting and empowering medium to hit the publishing world '.
In Ruck's opinion publishing an e-book can be beneficial to anyone, amateurs and well known writers alike; for the following reasons:
•  Expenses Involved: Publishing an e-book involves very little expense since it is possible to get it up on Amazon and get your friends to post reviews on your work. Currently, this tactic is even used by well know established writers in the publishing sector.
•  Profit: A self-published e-book can earn you about four times as much as one put out by a publisher.
•  Re-launching: Publishers can re-launch writers who were popular 20 or 30 years ago for minimum outlay.
•  Publishers can play around with e-book prices, halving them overnight to attract mass-sales and word-of-mouth promotion and then increasing them when sales reach a plateau.
On the other hand, the downside of self-publishing is that very few have succeeded in their efforts and the reasons for this, has to do with relevant aspects to take into account when publishing. Thus, talent and profitability are key ingredients for both print and e-publishing alike. Ruck asserts that only a few have really soared so far, and most of these – like EL James – have been re-promoted by a print publisher and most will earn less than £500 per year. Guidance is also vital to reach your audience; self-publishing writers need to have a clear understanding on their goals and strategies to assess this channel properly. Their work also needs to be evaluated by experts in the sector. Currently, there are agencies which, can help you improve different aspects of your e-book to engage and attract your audience.
The eBook revolution can be a new door of opportunities for anyone who is interested in publishing, nevertheless; it is vital to get the right information and guidance in order to be a successful self-published writer. If you are interested in getting more information on the e-book revolution, please e-mail us at sales@3dissue.com
Image from the nice folks here.
By 3D Issue