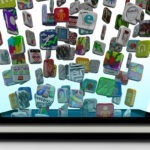 Apple are well established at this stage in taking a market and changing it for the better, in many sectors Apple as a company have made a huge impact. One of the core reasons mentioned for this is Apple's tight connection between its hardware and software – a total shun to the idea of open source, which is the theme at companies like Google and likewise for any type of licensing.
To appreciate Apple and their position in this market as the potential 'king of digital publishing' one could not ignore the idea above, that iPads are indeed the future of digital publishing. So what exactly have Apple changed already and how might they propose to cause disruption in the digital publishing market?
Apple's history is well documented; their impact on the music industry was first established with the launch of the iPod and later the iTunes music store. Apple as a company managed to establish what other firms could only dream of as it negotiated agreements with major music labels and artists to provide individual downloads for only 99c per song.
The sale of music via iTunes ensured that Apple's devices went from strength to strength also – in order to purchase music one needed iPod to play it.

Apple's attention then focused on Movies. For long term Apple fans this would not have occurred as any major surprise Quicktime and its Trailers were quite the feature at one stage allowing visitors to the Apple website access to a library of movie trailers, Apple achieved here what they did in the Music business by providing movies for sale, then rent and later top TV shows.
Apple's release of the iPad in 2010 brought iBooks to the market. E-Books had already been in existence of course, the kindle having been released originally in 2007. What Apple tend to be good at is getting the execution 100% correct – the iPod was not the first MP3 player it was however the first that was easy to use.
iBooks provided a new platform for Authors and publishers alike, despite currency criticism of the platform and legal action in the US, iBooks certainly offers opportunity for sales of iPads like iTunes did for the iPod but are they the actual future of digital publishing?
The iPad will undoubtedly be a major force in digital publishing but there are some factors which will in time make it a luxury device. The first of these is price Apple's devices are expensive when compared with the majority of alternatives the kindle starts at $79 the iPad from $499 both will allow the reader to read e-books albeit in different ways.
Apple have a key component in their model which is the integration of their hardware and software as well as their reliability and 'trust factor' there are few companies who customers will wholeheartedly trust with their credit card details for e-commerce purposes, Amazon and Apple are possibly the most important in this regard. Because of this Apple have an ease of access to market which is not simply replicated. The iPad must be considered as a key element for the future of digital publishing as a product owned by a large proportion of the reader base even if the price of the device remains high – which it will!
By 3D Issue