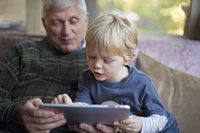 In our blog today, we will take a look at consumer habits in the e-Book market. Simba Information, a market research firm specializing in publishing and media, has released the fifth edition of its Trade E-Book Publishing report series.  According to this report 'The number of e-book users climbed in 2012 to pass 50 million adults but consumers habits have been changing'.
This report provides some interesting information on readers' habits including how they use e-books, what devices are used, what extent they buy and how much money they spend.
The research firm reveals the following findings:
•  The gap between e-Book 'users' and e-Book 'buyers' grew even wider in 2012
•  The average amount of money spent by a given e-book buyer didn't rise [between 2011 and 2012]
•  There was an increase in the percentage of adults who purchased a paperback title
•  The Children's and Young Adults market continues to be rooted in print but both formats have shown strength in 2012
•  About 25% of adults are buying at least one Children's/Young Adults print and about 5% buying at least one Children's/Young Adults e-book
•  About 63% of smartphone owners, 48% of iPad owners and 40% of non-iPad tablet owners do not use e-books.
The e-Book market has developed to become one of the most popular platforms in recent years; however, the changing consumers' habits have created a more complex market and getting consumers to value and engage with content, has become more challenging. In the words of Michael Norris, senior analyst of Simba Information's Consumer Media & Technology division "any publisher who still believes that making their content available or accessible electronically is enough is kidding itself'.
This report also includes a two-year analysis of how much money e-book users spent on digital titles, a multi-year analysis of e-book pricing trends and what proportion of e-book users acquire digital books for free, and a full psychographic and demographic overviews. For more information on this report, visit www.simbainformation.com.
By 3D Issue