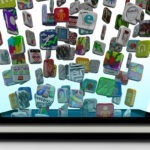 Digital publishing has grown rapidly with the introduction of new technologies and devices like the Apple iPad, iPhone and Amazons Kindle Fire, which have started a model of business change particularly in the distribution of information to customers and adoption of new strategy.
Many businesses have yet to take full advantage of mobile technology 2012 will be filled with a new wave of digital publishing apps across a wide range of industries.
Artists and music labels are now beginning to embrace mobile technology to develop powerful new ways to connect with their fans that will even outdo the original experience of the album cover.
Several musicians and labels have really started to use mobile technology to tell a deeper story and share directly with fans. This particular app video showcases pivotal moments in Jimi Hendrix life and career and streams of his music that transformed the world and offers an interactive approach to story-telling unlike anything we have seen before.
In the future, we could also see with a relatively small effort, studios may start to turn children's films into interactive picture books enhanced with games and clips from the films. An app could enable people to view all the actors' tweets or to follow them on Facebook or other social media sites in a more engaging way.
Online retailers could offer catalogue apps that allow people to browse through the content on their device, which provides retailers with a huge opportunity to bring their catalogue experiences to life.
This could also mean, in the future, shoppers should be able to virtually try on clothes, making mobile shopping an interactive and more enjoyable experience. Homeowners should be able to take pictures of their living rooms and upload them to the catalogue app, to virtually decorate the rooms and get a perfect idea at a prior stage. So let's wait and see, what the coming future is going to thrill us with!
By 3D Issue