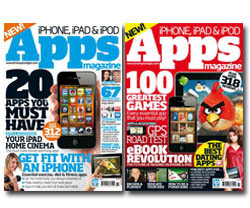 The world's leading apps reviews magazine 'Apps Magazine' has taken the decision to go completely digital resulting in the termination of its printed editions. The UK based, former magazine, was a monthly publication which first appeared on shelves in late 2010, priding itself on being the first magazine of its kind, it provided monthly reviews of over 300 of the hottest new apps and mobile games for iOS and Android catering for what was, and continues to be, an ever expanding marketplace. Amongst its regular features as well as the app reviews were group tests, features and tutorials and interviews and reviews with leading app developers.
The magazine, which oddly enough considering its target market didn't have an online version until its later issues, has given no reason for their decision to go digital only. What exacerbates the situation even more is that 'Apps' were creating a replica of their print edition for their online edition, one can only assume they are centralizing their approach to the smartphone/tablet market and will now focus on an edition solely aimed at these markets.
The advantages of transcending to digital are numerous; you can create subscriptions to cover costs, (Apps Magazine is available through iTunes and Google play as well as being present for Kindle Fire through Amazon and also the Nook through Barnes Noble. The app is priced at £2.99/$4.99), you can harness the power of interactivity within your publications which can transform the entire user experience. There is also the convenience factor and unlimited space to utilize while making yourself available to one of the biggest audiences we have ever known through one of the biggest resources we have ever known, the internet.
The transition to digital
The transition from print to digital is becoming ever more widespread, the broad adoption of the internet and the infiltration of smartphones and tablets is having a major say in the methods we now pursue in our digestion of content. The rules have changed beyond recognition, publishers and businesses alike have to adjust their approach just to remain current. The world is online and it looks likely to stay there for some considerable time, companies simply have to be online to cater to the needs of this burgeoning audience.
Only recently we seen Marissa Mayer, CEO of Yahoo announce at the CES show in Las Vegas that Yahoo would be launching its own digital magazines, this will become an announcement that we should all get used to hearing as more and more companies adopt this approach. Quite bluntly the future is digital, this is not to say that print will be eradicated and forgot about or that there even should be a print v digital argument in the first place but clearly this is the way things are migrating. With every new smartphone and tablet there has to be content to for the consumer to consumer. It is commonplace for a consumer to search online before anywhere for a service or product so where does that leave you if you have no presence online to create engagement with them?
In the case of App magazine, they differ slightly in that they have restructured their whole model but in the main the transition to digital can and should be a seamless and pain free one for publishers. This can be achieved through the use of software such as 3D Issue. 3D Issue can ensure your publications become online versions with the minimum of fuss, all this while encompassing the best digital has to offer, can you or your business afford to miss out on the limitless opportunities going digital and making yourself available online will offer?
Try a fully functional trial of 3D Issue today and reap the benefits of having your publications online.

By Charlie Gallagher