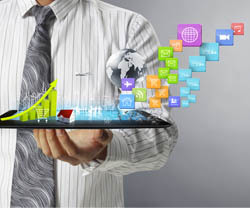 Digital marketing in recent years has seen the uptake of email, text messaging, production of web content, blogs, and material for digital streaming such as video, audio and pod casts to share via social networking. All these digital channels can be made easier to access through Apps.
It is not unexpected that digital marketers are engaging audiences with Apps as desktop and mobile Apps have grown in prominence with the rise in tablet devices and smartphones. Marketers must be particularly savvy and inform themselves on the current technologies to deliver the right content to their audiences at the right time. The App is the perfect medium for this digital experience.
As 2013 is coming to a close are you tired of hearing about the year of the mobile and making sure you go mobile? Well I hope you listened; mobile usage, reading on mobile and consumers buying directly from their mobiles has increased. The time spent on these little devices should be embraced by marketers, this channel of information flow is an untapped medium for many. I will explain how a company that produce a PDF of marketing material can re-use this content as a digital publication and market it as an App. It is all about getting results from the content you have created and delivering it in as many channels possible for reach to a wider audience.
3D Issue FlipBook Viewer App: For e-catalogs, e-brochures, digital magazines and e-publications. This App allows the consumer to gain access anytime, anywhere, whether they are online or offline from a smartphone or tablet, iPad or iPhone. It is an effective way to showcase the archive of your publications. Your readers will be able to access and download an archive of the publications you have created through the App.
3D Issue Branded App: The Apps can be custom build to suit the individual needs of the business and how they intend to reach their audience. All you have to do is give the App development team your logo, icons and marketing material. They can build a corporate feel for your company, as logo, themes, brand and colors can be used throughout. This approach is proving popular with corporate clients embracing the Apps for their companies digital marketing strategy. Read more on this here.
In this video tutorial we will show you the app experience on the iPad and iPhone.
We show you how to turn your digital magazines into iPad Apps with 3D Issue in this video tutorial.
If you have any questions please feel free to contact the 3D Issue team at info@3dissue.com
By Audrey Henry