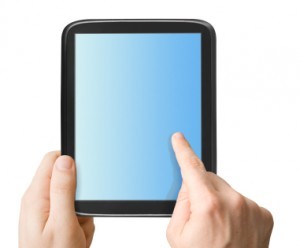 Hitting the headlines again Apple unveiled their new iPad in San Francisco yesterday. The iPad 2 is said to be faster, lighter and equipped with a camera for the first time. However, Apple receives increasing competition from rival companies. Apples renound CEO Steve Jobbs received a heros' welcome after a surprise return to the spot light after cancer treatment to present his new project to an audience still keen on his company's much hyped  launches.
The new iPad 2 is thinner and twice as fast and crucially has a front and rear camera for face time and photos along with the same access to apps to manage your music and video. According to Apple CEO Steve Jobs, the company has sold more than 15 million iPads' so far, and the iPad 2 has taken on many more interactive capabilities. It is expected that the market for tablet devices is going to get much bigger and could overtake sales of net books and laptops and by next year.
Most rival tablets like Samsung run on Google's Android system. In April the much anticipated Motorola zoom will be launched. This had motivated Apple to keep rolling out new products to stay ahead of the game. Hp is coming out with a model and Blackberry is coming out with a playbook. Apple is still anticipated to dominate this market and sell over 30 million iPads and iPad 2 models this year. However, it is also expected that their competitors will sell at least 10 million devices.
Apple has also created a Smart Cover for the iPad 2 which has a self-aligning magnetic hinge that attaches itself to the table as well as folding back on itself to create a platform to support the iPad. The iPad 2 is in parallel pricing to the original iPad: the 16GB wi-fi model will set you back $499, $599 for the 32GB, and $699 for the 64GB. Add 3G and costs soar to $629, $729 and $829. The new iPad 2 models are accessible with Verizon and AT&T networks and the Verizon wi-fi/3G model will be available only in the U.S.