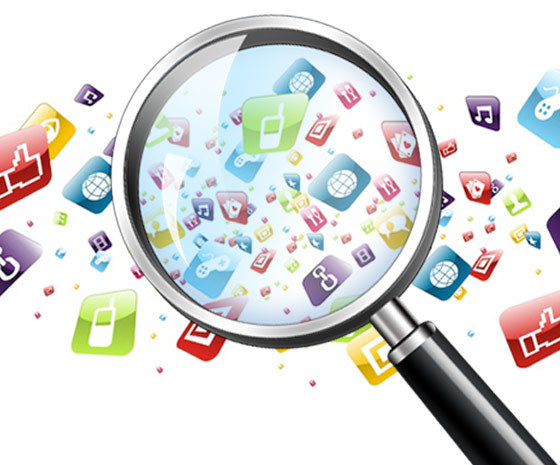 How can I go up against brands who are paying thousands to advertise their app?
The answer is App Store Optimization or ASO for short, I mean who wants to pay for marketing when with the right approach can do it for free and get the same or even better results than people who are paying. For many of you who are unsure of the term 'optimization' it is basically the SEO for app stores. The difference is, SEO is for websites and ASO is for App Stores like Google Play or the Apple AppStore.
At the end of the day we all just want more traffic for our business.
Because SEO is the use of keywords that will list you on the Google search pages for app stores you're going to need a different approach.
Today we're going to talk through app store optimization, what it is, why it's so important and how you can use it successfully. This blog is continuing on from our previous blog on which app store to choose, so I'd advise reading this before reading on.
Before we begin:
The majority of users find out about apps through word of mouth. That's why it's so important to be treating your customers well and being active with them on social media sites. If your clients are impressed with your app they're going to tell their friends who will tell their friends and it goes on. So you need to be making a big deal about your launch, have a countdown get your audience excited, get interactive, ask for feedback and thank them for their comments.
Also, when your app is finally up and running on the app store, make sure to read through the reviews and ratings, listen to what your customers have to say, if majority aren't happy with a certain feature by reading the reviews you're able to make changes to make the app better.
What is ASO?
It's a method of helping you rank higher in an app store in the search results. Because there are so many apps out there now it is harder to be found, but just by using certain keywords that your target audience may search on the app store, this is where you have to take your customers into consideration, what keywords would they be searching? If your app is about childcare, mostly mothers and fathers or childminders would be searching for it so have related keywords to these types of users. By using keywords you're one step closer to being downloaded, well closer than you were before not using ASO.
Why is ASO important for your business?
Appstore search optimization is important for your business because simply, if you're not using it to increase your ranking you're missing out on the largest means of discovery that is available for your app.
In most cases app browsing on the app store is where you're to get the most downloads. A recent research discovered that almost 53% of android users and 47% of IOS users had downloaded an app through app store searching, all thanks to ASO.
How do you use it?
Things to keep in mind when you're using app search optimization is:
The title –
The title you choose for your app is a make or break. For example when thinking of a really good keyword to throw in, 'Game' is used a lot on the app store, because so many people want games marketers think to throw 'Game' in at the end their app, but if there are so many apps with the keyword 'Game' it'll be harder for your app to rank at the top or even be found on the store, customers will only scroll down so far. But also as I said above the example of the childcare app, make sure to include related words.
You can see by the image I have attached below there was a 10.3% increase just by including the keyword in the title.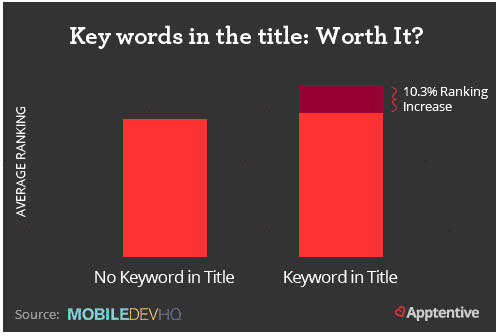 Logo –
Because our generation is so visual, users will be drawn to your chosen icon for your app, it'll be the first thing they see, that is if it's worth turning a head for. It should be related to the app itself, it needs to be eye catching, be seriously thinking about that when deciding on an icon.
Description-
For customers, they're going to want to know a bit about the app, but we use the internet because it's so easy and quick, so think that when you're writing your description. Think about getting the facts about your app and the features but with the use of good content, keep it short and sweet with also providing the information they need. Think of the description as your landing page and remember by repeating a keyword several times does not affect it in any way, once is enough.
Screenshots-
What many app developers do is screenshot the app itself, you need to customize it and show the user how your app actually works, we are looking for loyal downloaders after all, we're not looking for users who will delete the app or hide it away in a folder within 10 minutes.
Competition-
Keep an eye on your competitors, keep your friends close and your competitors closer. See what they're up to and see what kind of keywords they're using in their description.
Please remember that using ASO will take time, you won't get thousands of downloads overnight. If you have any questions about the app stores or building an app we can try and help contact us via email on: info@3dissue.com.
By Georgia Keys