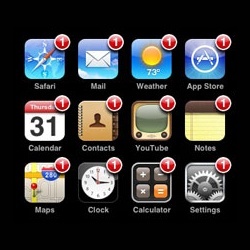 Push notifications are the messages sent by a mobile app to the user. They usually appear on the screen as alerts.
Users have to allow the app to push notifications to their phones when the app is installed, and they usually can update their alert settings either on the app itself or through the device settings.
The benefits of app push notifications
• The app doesn't need to be open – Feature exploited by social media and instant messaging apps. Sending push notifications for received messages or for information that is of interest for the user has changed the way people use their phone. Thanks to push notifications, there's no need to be constantly checking every app. Users love it and so do brands, as they can now remind their customers of promotional offers or events without relying on them opening the app.
• Reach your user whenever you want – The user of your app has accepted to receive your push notifications putting a really powerful marketing tool at your disposal, use it wisely. One of the main reasons why people uninstall apps these days is the amount of annoying and unnecessary notifications. Make sure you provide value with each and every notification you push.
• High click-through-rate – While the average email CTR lies between one and four percent, app push notifications manage to score an astonishing 40%. Although figures will vary depending on your niche, when properly used, push notifications can increase your user engagement significantly.
• Great platform for building brand recognition – Some businesses use app push notifications as a way to promote their brand with viral content. Their aim is to make the user associate their brand with a nice and warm feeling. One good example of this kind of strategy is the one used by the clothing brand Chubbies.
2 types of app push notifications
• Transactional – These notifications are triggered as a response to an action performed by the user no matter their current situation or level of engagement. Social feeds or apps like Uber are the perfect example.
• Engaging – If done well, we usually love these. They usually come in the form of "special discounts", "promotions", an update on the availability of the last issue of a magazine etc. and apps usually call for an action from the users side.
How to implement push notifications the right way
• Frequency and timing – Remember that the main reason why people uninstall apps is annoying notifications. You may have tons of valuable content you want to share, but doing it through push notifications is not the way to go, other platforms are better design for that. Instead limit your notifications to really important and interesting information.
• Content nature – Depending on the nature of your business you should start considering how to reach your audience with push notifications. You can't send a 1000 word blog post using your app, but you can send a line of text that will make your audience acknowledge the existence of this post and open it when they need it.
If you want to create your own app and see how push notifications could work for your business, you can start doing so with our App platform.