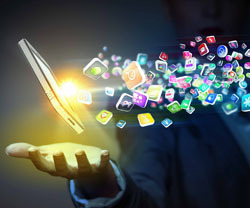 Nowadays creating an app is extremely easy. Once you have a great idea, you just have to use a software to build it yourself, hire someone to do the work for you or if you're a talented developer code it on your own. The hardest part is to conduct a successful app marketing strategy and get people to download your app.
Here are some pretty simple yet effective app marketing strategies that will ease up the process:
Promote Key Features to Early Adopters
The best promoters of your app are early adopters. This segment of your target audience likes to test new products before anyone else on the market. Getting it right with them could rapidly increase your popularity.
Focusing on early promotional activities giving discounts and freebies to the members of specific communities in your niche will give you a solid ground to implement your marketing tactics in the future.
For this, you'll need to have a version of your product that includes the core and most important features of it (the ones that will define it) ready, and you'll need to be able to show the value of using it.
Update Your List of Features and Upsell
Once you get a rock solid feedback from the community of early adopters, you'll be in position to make the improvements your app needs based on the experience of real customers and before you promote it to the market.
Update your app marketing strategy if you need too as well.
The "final" product should leave room for more features and updates. The app market is dynamic and fast-paced. If you want to keep your app alive, you'll need to be able to provide new features or improvements over time. Bear in mind that rarely is the first version the perfect one. New expectations and developments in the market will create new needs among your customers.
Be Specific With Your Niche and Target Audience
To be successful is important to be as specific as possible and to narrow down your target audience. This will not only help you reduce your competition but also to maximize the results of your resources.
For example, if you're working on a weather app, target audiences from cities with bad weather like London. There's not much point of you targeting people in places where the weather doesn't change much, is there? This way you'd be focusing your resources in those who will really find a value in your app.
Create a Clear and Unique Added Value
You won't be able to successfully conduct your app marketing strategy if your app doesn't offer a clear and unique added value to your target audience.
It's good to think how you can become the new SnapChat, but it's more realistic to have a specific scope of operation and find a problem that hasn't been solved yet.
It can be hard, but sometimes being better than your competitors is more difficult than being unique. If your competitors have a strong image, even when your product is better, it could be very difficult for you to make room for yourself. They have a name, and are trusted, and sometimes people prefer the security of a big brand to the potential of a new one.
However, if you believe that your apps key differentiator value is strong enough, go for it. It wouldn't be the first time that a starting business steals a share of their competitors market. But be prepared, it won't be easy.
Once again communities play a huge role here. Go through some of the most popular forums and Q&A sites. Check customer reviews of your competitors' products and find out what are some of the biggest obstacles your potential user base is facing.
Now that you have all the information, you only need to find a way for your app to solve these problems.
Optimize Your App for the App Store
SEO is not just for websites, optimizing your app for the App Store involves a similar strategy. Your app could be incredibly easy to use, complete and have the best UI of them all, but if people can't find it on the store it'll be worthless. We cover more about this topic when we talked about "How do Apps Get Popular".
If you're thinking about building your customized app and starting a marketing campaign afterwards, contact our team at info@3dissue.com we'll help you get on track so you get the best results.