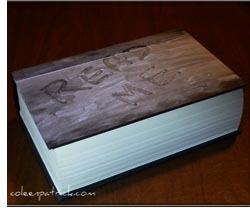 This world of ours is a busy place, the advancements in technology has meant we are always switched on; our downtime is at an all-time low. We are always connected, even when we are on the move connectivity resides in our pockets or handbags. While this is undoubtedly a fantastic resource and one which has made our lives, both in a personal a business sense a lot easier, it has had a knock on effect on that of the most valuable commodity of all, our time.
If you are like me you probably have a multitude of lists of things to do constantly whirling around your head, full of good intentions but when it comes down to prioritizing, certain things take precedence and others inevitably tumble down the list, some never to be thought of or seen again! The same methodology can be applied to books, how many times have you thought, yes, now there's a book I would like to read, must put that on the list for future reference and never got back around to it?
Well, a Berlin based start-up Blinkist has devised an app with you and I in mind. The team behind the novel (no pun intended!) application, Tobias Balling, Niklas Jansen, Sebastian Klein and Holger Seim were the first startup to be supported by Deutsche Telekom's new incubator in Berlin. The innovative app is based on the ideology of the summarisation of non-fiction books which the user can digest in a matter of minutes. Originally only available in Germany, Switzerland and Austria since their launch in January, the app has since launched on iOS and the web, enhancing its global reach considerably with the US a target market that the company are keen to expand into.
The platform itself is laid out in a grid type fashion containing 'blinks', 'blinks' are the book title, author and a short excerpt of the book itself. The blinks are split into categories containing Science, Politics and History, Health and Happiness, Entrepreneurship, Productivity and Self-help and Society. You select which of the books you have an interest in and you will be taken into a more detailed summary but one which can still be digested in 15 minutes or less. One of the apps main strengths is that instead of using algorithms to summarise the book each book has been read by a human who is an expert in the particular field of the subject matter according to Blinkist. The human touch is prevalent here, algorithms mechanically placing facts behind facts are absent from the app. Each field expert has summarized the book in question in eight to ten chapters, with each chapter containing roughly 250 words. This may sound a lot but can still be read quite comfortably within the 15 minute timeframe.

Garnering knowledge on the move
Another facet of Blinkist's armoury is its mobile centric approach which ties in fittingly with its 'blink' approach; it is no secret that smartphone and tablet usage has risen exponentially in recent years, think to the last time you were in a public place, how many people were reading or using their phones? This app offers the perfect opportunity for people on the move to absorb content and knowledge while on some rare downtime; the decision to aim the app at mobile users is a masterstroke considering the times that they would be using their smartphones the most
The purists may not be keen; they will argue you should read the book in its entirety as you will be missing the finer points enclosed within its pages, they will infer it is some sort of infringement on books and what they stand for. There is also the question of whether the authors and publishers will be less than enthusiastic with this approach. On the flipside, the reading of a summary provided by Blinkist could well lead to the consumer actually buying the physical book and even result in them finding publications they wouldn't have otherwise been aware of, so this debate definitely has different aspects to consider. Could Blinkist be a doorway for publishers to drive sales by offering enticing summaries encouraging consumers to purchase or will the consumer decide that by having a summary already in place they have no real reason to read the entire book? This debate is for another day, but what I will say is that surely by educating ourselves and gaining knowledge can only be a good thing? For too long, people have complained that activities such as gaming have blunted our thirst for knowledge, especially amongst certain demographics. Surely this is the ideal platform to mount a comeback for that font of knowledge, the common book. The internet is without a doubt one of our greatest resources, a library that we have never seen or had access to before. This doesn't take away from the fact that some of the most insightful pieces of literature and gems of modern writing are still only found in books.
What can't be debated is that this is a unique idea that deserves to do well, to recognize the fact that the world has gone mobile and attempt to tie this into the world of non-fiction paper back publications is worthy of acclaim in itself. The ability to best utilize your time will be a very attractive proposition to many consumers, after all what better way to stay up to date with current affairs in your professional life than on that morning commute or waiting time? Some would argue that the advent of the internet has pushed traditional books back onto the shelf so to speak, surely if there is a way of amalgamating these two fantastic resources it should be embraced?
The app is free to download and use for 30 days and is € 4.59 thereafter on a monthly subscription, there is also an on demand feature available where single blinks can be purchased. At last count the application had over 150 books available as blinks and this number is rising every month. The amount of books available has been an Achilles heel to the app, at last count there was over 150 books available as blinks, the recent announcement that the start-up had accrued funding in the shape of a six figure sum from a round led by IBB Beteiligungsgesellschaft-managed VC fund Kreativwirtschaft Berlin along with MGO Digital Ventures GmbH should change the landscape irrevocably in this respect.
This funding will lead to an expansion in the number of books available which should lead to more subscriptions which in turn should lead to a stronger platform. As their site proclaims 'The knowledge of the world is our fuel', I couldn't have put it better myself.
After all, it's an infinitely better use of your time than playing Angry Birds or Tetris.