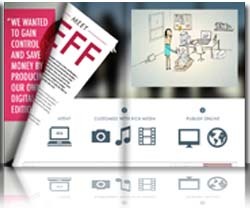 Ebooks offer many advantages to the publisher and marketer alike, eBooks allow us to integrate Google analytics to our publications providing priceless information and data on what parts of your publications are performing the best, which content is resonating with the consumer and much more. This information can be vital in tailoring your content for future editions ensuring the reach employed by your publications is as substantial as possible.
The advantages of eBooks are many and include but are not restricted to
• Reach your Audience on any Device
• Publish Quickly and Easily
• Portability
• Low production costs
• Environmentally friendly
• Instantaneous delivery
• Worldwide reach
• Auto Detection and Placement of Links
• SEO friendly publications and much, much more
One obvious advantage of eBooks which I haven't mentioned yet is the use of rich media within eBooks. Rich media or interactive features are part of the real beauty of eBook technology; this technology can be used to create eBooks that really come to life through animations, video and audio creating a unique, engaging experience for the end user.
Rich media within animated eBooks can encompass
• Audio clips
• Movies
• Flash animations
• Web and email links
• Call out text
Rich media used within animated eBooks can truly create an experience that transfixes the consumer like no other, like the old saying 'a picture is worth a thousand words', this adage can be applied to animated eBooks, what better way to inform and engage the consumer than to supply a video or audio file to accompany the content about a particular subject?
Think about it, you are reading about something, you are imagining it in your mind, you are hearing the noises, seeing the colors and then suddenly, at the flip of an eBook page, there is a link embedded on the page with a video pertaining to the subject you have just been reading about. Those noises and colors you were imagining have now become a reality.

It is a widely accepted fact content containing video has a higher conversion rate than content without video. The devices we use and the speeds at which we can access content online has finally got to the stage where this is widespread and rapidly becoming the norm. Video is predicted to have a huge year in terms of attracting eyeballs to content this year, it is in every businesses best interests to take advantage of this meteoric rise in video consumption.
Here we have some media rich samples that show what can be done:
You can view how to add video to your eBooks here
You can view our own video on how to create animated eBooks here:
Why not try out the free, fully functional trial of 3D Issue today and get started in the creation of your animated eBook.