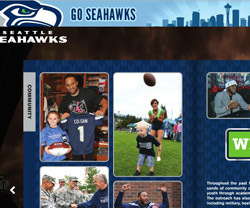 Last week we discussed some of the most creative revenue streams your digital magazine can provide. Now it's time to see how one of the most used promotional tools out there can increase the effectiveness of your digital publication so it results in a higher sales conversion rate and proves to be a significant revenue stream on its own.
Animated banners are a huge part of the display advertising industry for multiple reasons:
• Attention grabbing
• More than one message can be shared
• Make a clear impression on your reader
• Increased CTR (click-through-rate) compared to static banners
Yet you should also consider sticking to some best practices in order to get the maximum from your animated banners:
• Create clear copy and call to action
• Don't overdo them as it may annoy your readers
• Stay relevant
• Use retargeting
• Try to develop a genuine interaction channel with your audience. Look at this example from Digital Synopsis.
If you don't do this, you'll probably end up in this group of advertisers:
• Click-through-rate is not greater than 0.06%
• Only 2.8% of those clicks were from relevant readers
• Around 50% of mobile ad clicks are accidental
• More than 54% of users don't trust banner ads
Animated banners can still be effective
There are some clear advantages of using animated banners, but people in the publishing world can sometimes be stingy about using them because they've heard too much about the "bad" side of this type of promotional tool. It's true that creating a banner that will drown your conversion rate and develop a bounce rate from which you can't bounce back is relatively easy, but it's also true that animated banners are still one of the most effective ways of advertising when done properly. Just do some research first and follow best practices, you'll be alright.
The exact way to make your animated banners effective
Here's one simple close loop process that will help you develop the perfect banner ad for your digital publication. It may seem familiar and similar to other digital marketing processes, but it's almost certain it will help you create a top notch banner ad for your business.
Step 1: Develop your copy according to the 3Cs principle
• Compelling – Clear high quality image of your product or a picture that associates to your brand.
• Concise – Deliver short message that will make the reader take action.
• Clear – Keep it simple and consistent throughout your slides.
Step 2: Test
More than likely your first copy won't be the one you're after. The best way to test your animated banners is through social media because you can target the audience and switch things up in your campaign in a matter of seconds.
Step 3: Optimize
After the testing is finished, compile a detailed report of what worked and what didn't, so you can optimize your banner for its final placement destination.
Step 4: Measure
Your animated banner should already be a part of a digital magazine. Now it's time to test its effectiveness (read CTR, conversion rate, bounce rate, etc.) and see if it's actually converting your audience from readers to customers. If not, start all over again.
Even when you create the perfect animated banner, if there's such a thing, you should also consider how the publishing platform you use for promotion is steering it towards success. Choose the platform that allows your high end banners to be seen and noticed without becoming intrusive.