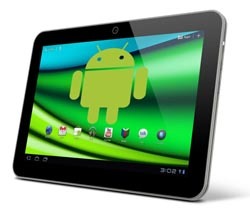 For the first time since their inception, Android tablets have outsold iPads, not only have they outsold Apple's popular tablet, but they did so by quite a considerable margin. Figures revealed by analysts Gartner revealed that Apple held a 36% share of the market in 2013, a figure that represented just under half of the 62% share enjoyed by Android devices during the same period. Android sold a very healthy 121 million tablets in 2013 compared to the 70 million iPads sold during the same period. The total number of tablets sold in 2013 numbered an impressive 195 million.
These results were in spite of Apple showing growth in the sales of iPads since its 2012 figures where 61 million iPads were snapped up by consumers. In 2012, 61 million iPads amounted to a 53% share of the market. In the same year Android accounted for 53 million tablets in the marketplace, a 46% share of the market, this is a clear indication of the rapid growth enjoyed by the Android platform in the following twelve months.
Apple may have been overtaken in terms of units sold for the first time ever but they can take solace from the fact that the iPad continues to be the single largest tablet brand, outselling its nearest rivals by a comfortable margin. The closest brand in terms of units sales to Apple; unsurprisingly, was Samsung which accounted for 37 million unit sales, a 19% market share. This nonetheless still reflected significant growth for Samsung; their figures from 2012 were recorded at 7% of the market. Asus occupied third place selling over 11 million tablets. In what was perhaps the most surprising finding of the research Amazon, credited with being one of the founders of the affordable tablets, actually lost ground on the others with a reduction in its market share to 4.8% from 6.6% in 2012.

These impressive figures for Android can be attributed to the introduction of affordable devices and low cost entry tablets. These affordable options had, for the first time, opened up the market to a wider range of consumer while still supplying specifications within the devices that was acceptable for the time of production. The iPad, long attributed to the premium sector of the market, is feeling the pinch somewhat as these affordable devices have demanded a higher portion of the marketplace.
The challenge for Android platforms will be to ensure the user experience remains at an acceptable level resulting in the newly acquired users remain with the android sphere. What is abundantly clear is that tablets are enjoying a surge in popularity, the numbers speak for themselves.
Do you need to get your content online and involved in the tablet and smartphone platforms?
Why not try out the free, fully functional trial of 3D Issue today.