HTML5 has been a key development in digital publishing over the last year, particularly as publishers look for efficient and effective ways of publishing digital editions to a growing audience.
The iPad has been a key factor for the rise in HTML5 for digital publishing, due to the device not supporting Flash – traditionally the standard technology behind digital magazines.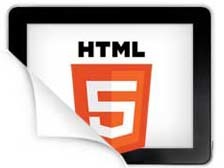 So what you ask was the big fuss over HTML5 in aid of? In a nutshell HTML5 create better and more interactive websites and software applications. The new programming language will allow for advantages across many many uses. Here is a quick overview of the advantages of HTML5
Check out this overview guide to see which formats including HTML5 can be viewed on which device – complete with examples of these file types so you can view on your different devices.
Should you create digital magazines in HTML or Flash? this is often asked by customers, we have the answers here – HTML5 versus Flash OR HTML5 and Flash?
The debate of creating a web HTML5 app versus a native app created for and downloaded via dedicated app stores has been a much talked about debate in recent months. It's clear that publishers and marketers want and need to be able to present and distribute their content to their readers and subscribers in the most beneficial way, but which route should they take? Check out this useful article – HTML5 Web App or Native App?
If you are researching solutions to create your own HTML5 digital magazines and e-books then this How to create iPad magazines will cover how to get started with this using the 3D Issue software.