According to a report from the dailymail.co.uk, Amazon has declared war on Apple introducing two new Fire tablets and a Kindle or 'Paperwhite' Kindle that allows users to read in the dark.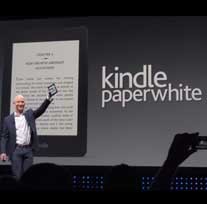 Amazon's chief executive Jeff Bezos commented that the firm 'we love to invent, we love to pioneer' and stressed that Amazon saw the Kindle family of e-readers and tablets as a service, with hardware a critical element of its digital content business.
Without any doubts, Amazon's new range products were priced aiming to reach the majority of customers segments since they are more accessible than the competitors' offerings in the market.
AMAZON'S NEW RANGE:
-Kindle e-reader – reduced to $69 (£69)
-Kindle Paperwhite e-reader, $119: Wi-Fi and $179 for 3G versions. New lit screen to allow reading at night
-Kindle Fire tablet, $159 (£129): 7inch screen, 40-percent faster processor, twice as much RAM, and longer battery life
-Fire HD tablet, 4G-ready version $499, Wi-Fi version is $299 (£159) – 8.9inch screen
The dailymail.co.uk suggest that Amazon is willing to make little or no money selling cheap tablets and e-readers because it wants to get the devices into as many hands as possible, then sell higher-margin digital content, such as e-books, video, games, apps and music, to a more connected and engaged customer base.

Amazon's chief executive told the crowd that they spent 4 years developing the product. He described the kindle Fire HD as the world's most advanced 7" tablet -Kindle Fire HD is the world's most-advanced 7" tablet, with a stunning customised HD display, the fastest Wi-Fi, exclusive Dolby audio, powerful processor and graphics engine, 11 hours of battery life, and 16 GB of storage for all your HD content.
The firm also introduced some promising features to amaze its wide group of customer segments. Thus, Amazon also announced that the Kindle Fire HD also includes stereo speakers, an upgrade over the Kindle Fire's mono speaker and  an 'x-ray' feature which lets people find out an actor's name simply by tapping on them on screen, and multiple user accounts so children can easily use it without ruining their parent's setting.
However, the firm did not say if the tablets we be made available internationally. According to SmartCompany.com.au, the Australians are set to be disappointed once again, with no plans to release the hot new gadgets locally.
In the current economic climate, offering products at affordable prices can be a good tactic to gain new customers and Amazon is certainly striving to make the most of their range of product offering to strengthen its position in the market.